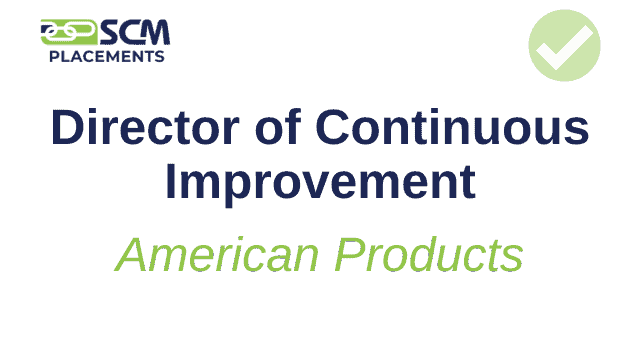 Company Name
Search Job Title
Director of Continuous Improvement
Client Profile
Privately held Midwest-based American B2B manufacturer and integrated solutions provider of telecommunications/network shelters, enclosures, and cabinets. Products sold through commercial B2B network.
Role Objectives & Challenges
To sustain their rapid industrial market growth, our client prioritized the establishment of a formalized CI/IBP group reporting directly to the President & CEO. The first step to meet this objective was to onboard a new Director of Continuous Improvement. This role would identify, drive, and manage the implementation of continuous improvement projects across multiple manufacturing areas. The position utilizes TPS/ lean-driven value stream mapping concepts and tools, to ensure alignment of functions and facility operations to increase customer satisfaction for quality and delivery metrics. The challenge was to source/ qualify a hands-on top-tier talent with in-depth expertise building a successful Continuous Improvement program from the ground up.
Our Approach to Solve the Search
We conducted a national search targeting senior CI leaders from leading ETO and CTO companies and adjacent discreet manufacturers. Working closely with the Director of HR, COO and CEO, we agreed to meet weekly to calibrate the ongoing candidate vetting process which included weekly candidate sourcing pipeline reports. Based on our ability to efficiently drill down on the hiring must haves, we quickly identified several qualified candidates for submittal.
The Hire & Results
We narrowed our candidate pool down to two highly qualified finalists, with one placed and selected after just 7 short weeks from search start in June 2022. Testimonial: Director of Continuous Improvement, Timothy York (placed candidate)  "I was very happy with the manner in which the SCM team reached out to me as a candidate - Very professional and transparent.  Unlike most recruiting services, once the representative has reached out, they are done with communication with the potential candidate, whereas this was not the case for Dallas at SCM.  Dallas was an absolute professional, was always readily available to answer questions, and was committed to seeing the process through to hiring.  I will highly recommend SCM Talent Group who is a very professional group that focused on the position, thinking outside the standard to find a quality candidate."