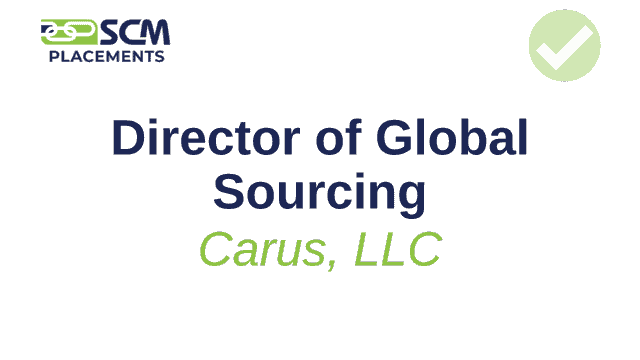 Company Name
Search Job Title
Director of Global Sourcing
Client Profile
Fast growing privately held and family-owned chemical manufacturer, headquartered in Illinois. They have a history of over a century of innovation, quickly expanding their served markets and production worldwide. Products are sold through commercial B2B network.
Role Objectives & Challenges
Due to rapid market growth, our client began ramping up a multi-year global sourcing transformation focused on investment in capital equipment and production expansion to meet their strategic financial short- and long-term supply objectives. The challenge was to source and qualify a best-in-class global sourcing leader with subject matter expertise in optimizing integrated procurement process controls and develop corporate global strategies and tactics for supplier acquisition and management. The Director of Global Sourcing would furthermore work hands-on with supply chain and operations leadership and suppliers, support supply chain projects, negotiate cost reductions, mitigate material-based supply risk, and ensure customer on-time delivery.
Our Approach to Solve the Search
We conducted a retained national search targeting senior procurement and sourcing leaders from leading chemical manufacturing, identifying candidates with successful global sourcing backgrounds. Working closely with the Senior HR leader and VP of Operations, we met weekly to review candidate screening results as documented through our weekly candidate sourcing pipeline updates. Based on our collective ability to drill down on the hiring must haves, we quickly identified a number of qualified candidates with successful history working in a fast-paced production environment for review.
The Hire & Results
We narrowed our candidate pool down to two highly sought-after finalists, with one placed and selected to begin after just four short weeks from search start in July 2022.