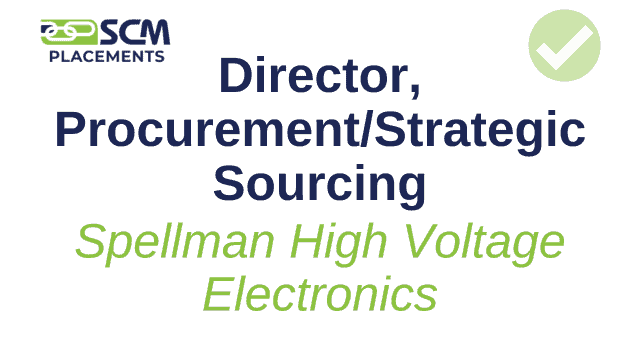 Company Name
Spellman High Voltage Electronics
Search Job Title
Strategic Sourcing and Procurement Director
Client Profile
Global, make-to-order electronics manufacturer.
Role Objectives & Challenges
After we successfully placed their new Global VP, Supply Chain, our client sought a leader to stand up its strategic sourcing and procurement team and initiative. The ideal candidate would have a unique understanding and insight to the electronics industry and global strategic sourcing and procurement. The candidate would be tasked with upstarting a new strategic sourcing and procurement team in the US.
Our Approach to Solve the Search
As a repeat client and having the opportunity to work with our placed candidate directly, we were able to calibrate and coordinate on this search seamlessly. The hiring manager knew our process and strategy firsthand and, with that, we were able to work in an integrated manner. Given it's levelling and nation-wide approach (remote position), the updates and reporting were given on a cadenced basis. Moreover, a complete overview and understanding of the electronics manufacturing space for candidates was required and landscaped to ensure a thorough pool of candidates was considered.
The Hire & Results
In conclusion of the search, SCM Talent was able to successfully place the candidate after a complete slate of interviewing.