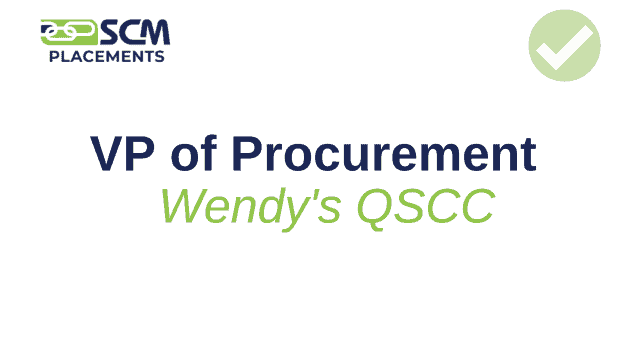 Company Name
Wendy's Quality Supply Chain Co-op
Search Job Title
Client Profile
Wendy's Quality Supply Chain Co-op (QSCC) is an independent, not-for-profit cooperative established in 2010, and is second largest in the quick-service restaurant industry with nearly $4 billion in buying power. QSCC is part of the Wendy's® extended family dedicated to supporting its members and the Wendy's system by negotiating with suppliers in purchasing, distribution & logistics, and services.
Role Objectives & Challenges
QSCC prioritized the search for a thought leader and driver of purchasing strategies, programs, and processes to foster and grow relationships with supplier partners. This key senior executive will work closely with their team and cross-functionally to ensure timely supply of high-quality products and lead cost management strategies that elevate each category sourcing process to ensure Wendy's is the customer of choice. The challenge was to source & qualify a best-in-class Procurement leader with in-depth expertise from the foodservice industry and supplier community.
Our Approach to Solve the Search
We conducted a retained national search targeting successful VP Procurement leaders w/ global F&B service backgrounds. Working closely with the Senior Director of HR and EVP, we partnered weekly to review candidate screening results, documented through our weekly Candidate Sourcing Pipeline updates. Based on our comprehensive understanding of our client's expectations we successfully identified a short list of five candidates for final review.
The Hire & Results
The top three candidates were invited on-site to interview with the leadership team. Ultimately one candidate stood out as the preferred finalist due to her balanced leadership acumen and exceptional soft skills. Despite the high caliber complexities of this search, the candidate of choice on-boarded within 3 months from search start.