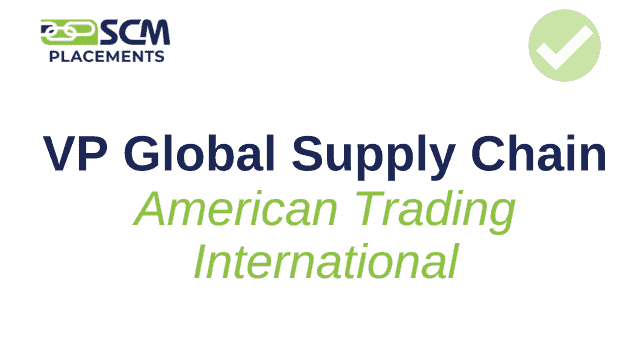 Company Name
American Trading International
Search Job Title
Vice President, Global Supply Chain
Client Profile
Diverse leading privately held U.S. Food & Beverage Export Company, based in Los Angeles, CA, operates as an intermediary between North American manufacturers and their international counterparts, exporting American foods and beverages to over 80 countries.
Role Objectives & Challenges
Our client was seeking a proven, proactive, and dynamic VP, Global Supply Chain to drive ever-improving supply chain innovation, speed to market, and cost reduction while delivering the highest level of customer service. This is a building/optimizing type role for someone to come in and assess end-to-end supply chain process controls internally as well as with key external suppliers and overseas customers.
Our Approach to Solve the Search
We conducted a "retained" national search targeting successful VP Supply Chain leaders w/ leading global F&B manufacturing backgrounds. Working closely with the VP of HR and Finance, we met weekly to review candidate screening results as documented through our weekly Candidate Sourcing Pipeline updates. Based on our collective ability to drill down on the hiring must haves, we quickly identified three highly qualified candidates for review.
The Hire & Results
We narrowed our candidate pool down to 2 highly sought-after finalists, with one placed, to begin after just 8 weeks from search start in August 2022. Candidate Testimonial: "I had the pleasure of working with Dallas Lovett from SCM Talent these past few months on a role for a VP of Global Supply Chain. At the point when Dallas contacted me, I was content with my position at my employer. However, after speaking with Dallas, I realized my background and previous success might align well with this challenging role. I could not have secured this position without him.  His coaching and consulting allowed me to really put my best foot forward in the screening process. Right from the start, Dallas had a very different approach to recruiting than I was used to. His strong business acumen and empathy to the needs of the business thoroughly prepped me for what I was about to face in my new role. I still apply his advice that he originally gave me to promote my ongoing business success! I cannot say more about the benefits of having Dallas and SCM Talent in my network, not only for our business but also as an extension for problem solving."