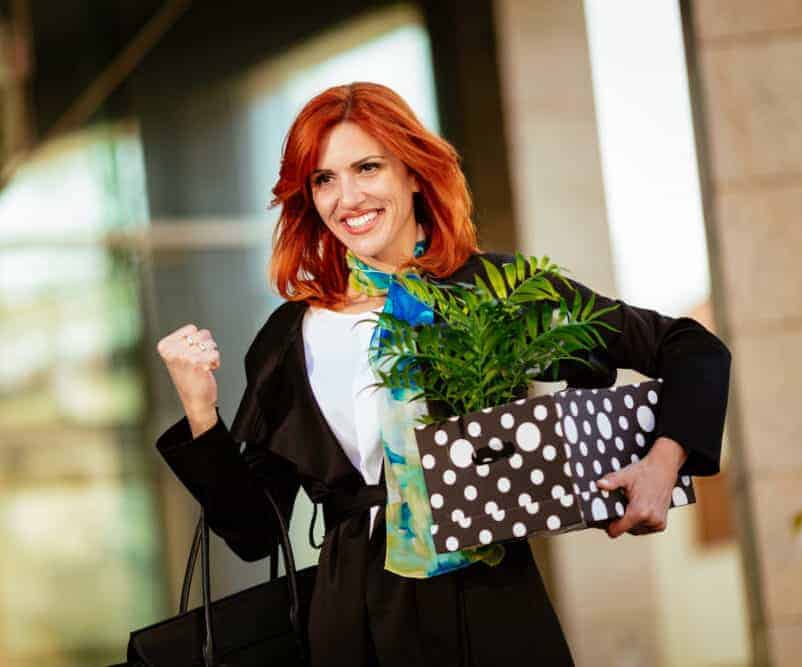 10 Do's and Don'ts on How to Quit Your Job
It's very important to know how to quit your job. As 2022 gets into high gear the and supply chain discipline continues to be a candidate-driven market.  According to the Bureau of Labor and Statistics, supply chain logistics jobs are expected to increase by 30% in the next 8 years! There's a shortage of supply chain talent and stiff competition for the available talent for all the job openings. Short answer: you can make good money in supply chain with a lot of choices at your disposal if you choose to quit your job.
Therefore, now is one of the best times to make moves if you are not currently where you want or need to be in your career.
While resigning from your job is never easy, it's important to remember to be as graceful and professional as possible to avoid burning bridges. Your current manager could someday become a client, and most likely your paths will cross with current coworkers at conferences, networking events, or even in a future job.
The following are some do's and don'ts for how to quit your job:
DO:
Consider this decision carefully. Have you exhausted all options? (i.e. If you love the organization and its values but have issues with colleagues or your boss, can you move to a different department within the organization?) It's important to ensure you've tried everything before moving on.
Finalize details with the new employer. Before you resign, it's important to make sure everything is negotiated and ready to go, from a signed offer letter to benefits to start date. Just because you have a job offer on the table, it may be wise to wait until things are in writing before submitting a resignation, as you never know how things could progress.
Carefully develop a formal letter of resignation. Not every organization requires this, but it's better to be safe than sorry. Make it short, simple, and straightforward, and keep the tone professional rather than emotional. Here are a few examples of templates to use as a model for your letter.
Deliver the news in person. Before you submit the letter of resignation, be sure to connect in person with your boss first. Emphasize the positive of your experience and talk about how the company has benefited you, and unfortunately, it's time to move on. Most of the people to whom you will submit your resignation have submitted resignations themselves, so they can be empathetic to the situation.
Offer to help during and after the transition, if needed. Be sure to plan to stay at least two weeks after resigning, and for some more complex jobs that can be more difficult to fill or in high demand, like demand/ supply planning, be prepared to possibly provide additional time.
Sort out any potential issues such as vacation pay, expenses, bonuses, etc. to make sure you get paid what you are owed. Also be sure to sort out the process for returning any company equipment including keys, computers, phones, etc.   
Be prepared for a counteroffer. In some situations, your boss may provide a counteroffer in order to keep you from leaving. Don't forget, there was a reason you started looking in the first place, so keep this in mind when evaluating this offer.
Ask for a reference (if you feel comfortable). As time passes, it can be easy for an organization or employer to lose track of past employees. With a letter in hand, you'll have documentation of your experience and credentials for future any opportunities.
Consider helping to find your replacement. If you are a valued employee, your absence will leave a void that needs filling. Any effort you can put into finding your replacement is great, even if it's adjusting the job description and position duties based on the time you spent there.
Schedule an exit interview. This is a great opportunity to provide feedback on your experience in your current position, and air anything you didn't address in your initial resignation discussion. As always, remember to stay neutral and professional in sharing your feedback, even if it is negative.
DON'T
Be rude and insulting. Even if the work environment wasn't conducive for your personal success, there is no point to be insulting to your boss and peers. You've made the decision to leave and you want to do so on good terms.  
Badmouth the job online. You may meet your current boss or colleagues later on throughout your career, so it's important to maintain a professional demeanor on places like your personal social media profiles.  
Get too personal in your resignation letter. While you may want to go into detail on why you are leaving, how the experience was, who you want to thank, etc., it's better to be short and sweet. Send those thank-yous to the individual people vs. in a resignation letter that goes to HR.
Give them more than two weeks. If your employer asks you to stay longer than two weeks (or the time in your contract) you don't have an obligation to stay. Your new employer will be expecting you to start as scheduled, and in a timely manner. What you could do is offer to help your previous employer, if necessary, after hours via email or on the phone.
Brag about your new job. Is there really any reason to make your old colleagues feel bad? While you may be excited about the new opportunity, company perks, etc., it doesn't mean you need to boast about it with your current coworkers.
Slack off. Once you've given notice, it's imperative you continue to perform to the best of your ability. You want to leave knowing you worked hard until the end, and that doesn't go unnoticed, especially if you turn to your former boss later in your career for a recommendation.
Just walk out. It's unprofessional and will likely anger your colleagues and boss. You will likely lose your 2 weeks of pay and probably have broken your contract you signed on your first day.
Write off your employer. The world is small, and if you aren't quitting due to anything negative, it's important to maintain a relationship with former coworkers and even bosses.
Don't take anything with you. Talk to your supervisor and HR about any intellectual property that you won't be permitted to take and be sure to return all of your company equipment, like computers and such!
Forget to say goodbye! Before you leave, say goodbye to your co-workers and let them know you are moving onto a new position.
Approaching resigning from your job with grace, dignity, and simplicity will benefit you in the long run. These do's and don'ts for leaving your current role help to avoid burning any bridges and are important lessons in how to quit your job, as the supply chain discipline is rapidly growing, and the chances of encountering past coworkers and bosses are high.