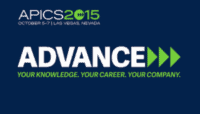 Rodney Apple of SCM Talent Group to Present at APICS 2015 Global Conference
I am looking forward to participating in this year's APICS 2015 Global Conference which is being held October 5th – 7th at The Mirage Hotel & Casino in Las Vegas, NV.
I will be taking the APICS Career Coach program "on the road" to this year's conference. My first presentation will detail the top career development highlights and advice from past webinars and whitepapers I've developed for APICS over the last two years as their Career Coach. This session will take place at the beginning of Student Career Day on Tuesday, October 6th from 8am – 9:15am PST in the St. Thomas room. Afterwards I'll be available from 11am – 3pm to meet one-on-one with participants and answer any questions pertaining to supply chain career development.
From 4pm – 5:15pm on Tuesday I'll be participating in a panel discussion with other industry experts on the topic of The Supply Chain Talent Crisis. This discussion will also take place in the St. Thomas room.
All of the pertinent details are below. I hope to see you at the APICS 2015 Global Conference in Las Vegas!!!
---
Career Tips from APICS Career Coach, Rodney Apple
Tuesday, October 6th, 2015 8:00am – 9:15am PST
St. Thomas Room
Overview:
This educational session is the destination for best-in-class career solutions for supply chain and operations management students, first-time job seekers, and current industry professionals pursuing meaningful career advancement. Improve your chances for professional success with real-world advice, proven strategies, and "not the same old career tips." From the job hunt to networking to salary negotiations, the presenter will provide valuable insights for attendees at all career levels. You will learn how to create an effective job search, build the perfect résumé, interview with confidence, and much more.
The Supply Chain Talent Crisis—Panel Discussion on Workforce Development
Tuesday, October 6th, 2015 4:00pm – 5:15pm PST
St. Thomas Room
Overview:
Every day we hear about the worsening supply chain talent crisis, but it is challenging to pinpoint the major issues at play. Should we be concerned with attracting young people to supply chain careers? Keeping current professionals up-to-date on key skills and recent industry developments? Ensuring workforce diversity and engagement within our businesses? Advancing managers into executive positions? There will be a lot to consider at this interactive panel discussion, during which industry experts, practitioners, and audience members will share perspectives on the magnitude and nature of the talent crisis as well as what we should be doing to address it.
Moderator:
Bob Trebilcock
Bob Trebilcock is editorial director of Supply Chain Management Review and executive editor of Modern Materials Handling. For the latter, Trebilcock has followed industry trends for more than 30 years, becoming executive editor in 2009. He grew up in warehousing, distribution, and manufacturing, working in his family's industrial packaging business before becoming a writer.
Panelists:
Cheryl Dalsin, Intel
Cheryl Dalsin has worked at Intel Corporation since 2000 as a technical program manager where she has held various roles including assembly, packaging, and materials development and various technical aspects of supply chain. Dalsin also has a passion for education and created a volunteer outreach program to proactively address the supply chain talent crisis.
Patricia Daugherty, PhD, MSU
Patricia Daugherty, PhD is a professor at the Michigan State University Eli Broad College of Business and the Donald J. Bowersox Chair in Logistics and Supply Chain Management. She previously held faculty positions at the University of Oklahoma and the University of Georgia. Daugherty has published extensively in logistics and supply chain journals and serves on eight editorial boards.
Gary Smith, NY Transit Authority
Gary A. Smith, CFPIM, CSCP, is vice president of the supply logistics division at New York City Transit, a subsidiary of the Metropolitan Transportation Authority. His responsibilities include management of approximately 1.5 million square feet of warehouse and storeroom facilities and the timely issuance of materials and supplies totaling $282 million annually to support daily operations, maintenance and repair.
Lungelo Khumalo, DHL Consulting
Lungelo Khumalo, CSCP, is a supply chain solution design consultant for DHL Supply Chain in South Africa. Prior to that, he worked for petrochemical company Sasol Ltd. as a principal practitioner in supply chain enablement. Lungelo is enthusiastic about skills development and inspiring students to pursue opportunities in the supply chain and operations management industry. His research involves rail transport as a catalyst for growth and development.
Rodney Apple, APICS Career Coach and President of SCM Talent Group
Rodney Apple is the Founder and President of SCM Talent Group, LLC – a national supply chain recruiting and executive search firm that recruits across the end-to-end supply chain discipline. Spanning almost 10 years, Rodney worked at the corporate headquarters for The Coca-Cola Company and The Home Depot where he led professional and executive recruiting for their global supply chain organizations. To date, Rodney has successfully filled more than 1,000 professional- to executive-level supply chain positions for clients ranging from Fortune 15 to start-up. Rodney also authors The Supply Chain Talent Blog where he shares advice on job search strategy, resume optimization, interviewing tips, career development, hiring and more.