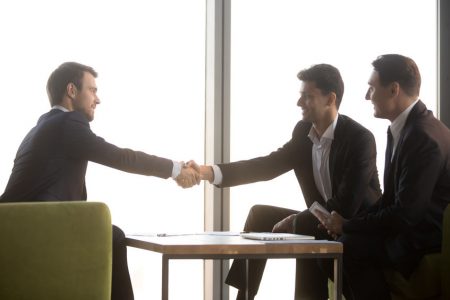 Breaking into a Supply Chain Management Career
Supply chains are a key element to economic growth and stability around the globe. A career as a supply chain manager requires a detailed-oriented vision and a holistic understanding of the process that takes products from raw materials to a finished product.
Within the field of supply chain management, there are numerous disciplines. In the modern workforce, there are not enough people to fill the positions within these disciplines. Finding qualified candidates has become an issue given the tight labor market, the retirement of the baby boomer generation supply chain management workers, and the fact that recruiting firms are looking for people with industry or functional experience, even at the entry-level.
 
Getting in the Door
A first step to breaking into a supply chain management career once you identify a potential job is to update your resume to highlight skills that match the opportunity. We've got some tips on how to optimize your supply chain resume, but also be sure to highlight the following transferrable skills:
Communication

– Supply chain professionals oversee aspects of inventory, logistics, procurement, purchasing, and transportation processes, bringing them into contact with people from across the corporate spectrum. Efficient communication makes for efficient processes.

Ability to Analyze Data

– Whether it's statistical data, sales figures, inventory numbers, or quarterly financial information, supply chain specialists see a surplus of data in their daily work. The ability to analyze and distribute this information is of vital importance, especially with tools and applications such as Excel, for example.

Relationship Management

– Negotiations with vendors and managing the supply chain process from raw material to end user is all part of a management role. Maintaining healthy relationships with key players in the supply chain will aid in a manager's success.

Detail Oriented

– Investigating third-party service providers, examining transportation initiatives, performing contract administration duties, and conducting supplier site audits consist of a few of the detailed tasks that supply chain professionals encounter.

Negotiating

– Finding vendors and raw materials for the creation of products is a vital part of the supply chain process. The ability to seek out and negotiate contracts is a strong trait for someone looking to enter into a managerial role.
Overcoming a Lack of Experience
Going straight from your logistics course or a career in an unrelated field to working in supply chain management will not be easy, but there are ways to gain industry experience and work your way into the field over time.
One avenue into a supply chain management career that requires previous experience is through internships, but those are often not feasible for established professionals looking to transition into a new career.
An alternative form of education that's available is training and certificate courses that require a smaller time commitment and add credentials to a resume. A great supply chain certification is offered by the Association for Supply Chain Management (ASCM, formerly APICS). An advantage of certificate courses is they allow you to maintain your current career and can help get a foot in the door before pursuing a degree in supply chain management.
Prospective supply chain professionals should join social and industry trade groups that will allow them to network with professionals in the same field and create connections that could prove valuable in the future.
Supply Chain Management Career Options 
Titles in the supply chain world vary widely and the responsibilities between titles often get blurred. It's not unusual to see the same job title at two different companies have two very different sets of responsibilities. For example, the duties included in a procurement or purchasing role may vary between a manufacturing firm and a logistics firm, yet have the same job title.
Here are examples of positions you may see in the workforce:
Procurement Analyst-

Focuses heavily on analyzing historical purchasing costs for materials, forecasting future costs, and finding prospective vendors.

Purchasing Manager-

Oversees the large, strategic task of identifying suppliers and the details of purchasing from them. This person is involved in negotiating and developing the framework for supply contracts as well as developing metrics for managing procurement costs, delivery times, service levels, and quality.

Logistics Manager-

Negotiating contracts with suppliers and carriers, developing supply chain metrics and strategy, and overseeing the day-to-day logistics functions all fall under the duties of a logistics manager. They are well versed in analytics, have a sharp eye for detail, and strong interpersonal skills.

Supply Chain Manager-

The most sought-after and elusive role in the field, the supply chain manager develops solutions and drives their implementation across all functional areas. Their understanding encompasses logistics and distribution, purchasing, manufacturing, inventory management, marketing, and product development.

Inventory Specialist-

Works at different levels within a supply chain to manage inventory levels, analyze historical sales data and seasonal demand, and analyze processes that determine replenishment cycles.
Warehouse Manager- This person usually works in retail or distribution and transportation, managing the placement of inventory within a warehouse and ensuring the accuracy of inventory levels. Overseeing safety compliance and warehouse personnel also falls under the warehouse manager's duties.[activecampaign form=15]