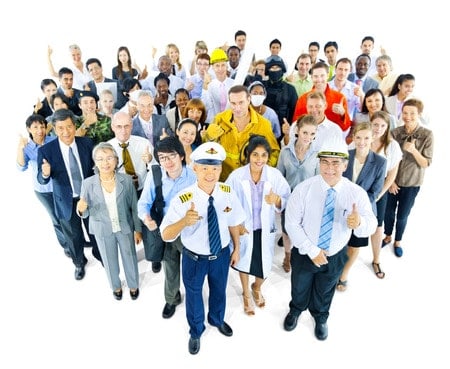 How to Transition Military Supply Chain Skills into the Civilian Sector
The transition for military candidates into civilian jobs can be an arduous process. Luckily, there are plenty of great resources available to assist with learning the civilian lingo and translating one's military supply chain experience into the civilian sector.
Included below are some tips and specialized resources to assist with learning the civilian supply chain lingo and shortening the transition from a career in the military to a civilian supply chain career.
Network with Ex-Military Supply Chain Professionals
A great tactic is to connect with civilian supply chain professionals who have served in the military before. Utilize online resources such as LinkedIn to run an Advanced Search for keywords such as your branch of military (e.g. Army, Navy, Marines, etc.) as well as terms like "logistics" or "transportation" that relate to your core experiences in the military.
Through networking with ex-military supply chain professionals, they can help you grasp the civilian sector supply chain lingo and potentially connect you with hiring managers for open positions within their organization. If you find that you're having trouble connecting with the right individuals, you may want to sign up for a premium account on LinkedIn to give you better access to making initial contact. You can always cancel at any time.
Identify Supply Chain Recruiters That Place Military Candidates
Be sure to conduct the proper research to identify supply chain recruiters that specialize in placing military candidates into civilian jobs, as they're accustomed to dealing with this challenge. LinkedIn is a great place to find these individuals and specialized recruiting firms. In addition, you'll want to seek out employers that have established a military hiring program. Of course you'll want to poll your peers and network in efforts to solicit referrals for good employers and recruiters.
Hire a Professional Resume Writer with Supply Chain Management Knowledge
If you are having problems translating your skills and experiences onto your resume, it may be beneficial to hire a professional resume writer. This quick, easy and affordable solution will optimize your resume which can potentially open doors and job opportunities of which you might have previously been overlooked. Get started with reworking your resume with SCM Talent Group's resume optimization tips or contact us to obtain professional resume writer referrals.
Join Supply Chain Associations and Attend Supply Chain Professional Networking Events
Supply chain associations are a great avenue for learning the lingo and meeting others in the supply chain profession. APICS and other top supply chain associations have local chapters in most major cities. Not only are these associations great for networking and learning the lingo, they are highly educational as well. To discover the closest chapter to you, click here.
If you happen to be a member of APICS, be sure to explore the white papers and webinars that were developed by SCM Talent Group President Rodney Apple, who has been serving as the APICS Career Coach since 2014. Simply use your APICS login credentials to access the following career development content Rodney has developed via www.apics.org/careercoach.
"Fast Track Your Supply Chain Career Through Mentorship"
"Master the Art of Networking"
"Optimize Your Supply Chain Resume and LinkedIn Profile"
"How to Accelerate Your Career in Supply Chain"
"How to Develop and Execute a Winning Job Search Strategy"
"How to Master the Art of Job Interviewing"
"How to Evaluate and Negotiate a Job Offer"
The APICS Dictionary, 14th edition, contains more than 4,500 terms and definitions relevant to supply chain and operations management professionals working in today's global environment. Released 50 years after the first edition, the 14th edition adds more than 250 terms from the previous edition and features. Looking for a supply chain term or definition? Search online now or download the Learn It app.
4,500 terms and definitions
50 modified terms, reflecting the ever-changing supply chain and operations management landscape
alignment with the 2014 APICS CPIM and CSCP exam content manuals
APICS members: Access your free print or e-download copy or purchase additional copies.
YouTube Videos on Supply Chain Management
YouTube is a highly undervalued source, with thousands of informative videos and tutorials on almost any topic. Experiment with various search terms until you discover the type of content you're looking for. For example, try "translate military to civilian lingo" as a search term and you'll find plenty of good advice. You should also check out the instructional videos on supply chain management that Arizona State University developed.
Below are some great resources in utilizing your military supply chain experience in finding jobs, networking opportunities, post-military success guides, transition assistance information, and much more.
Additional Online Resources for Veterans