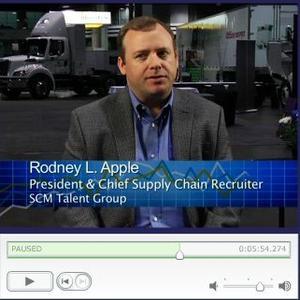 Video Interview on Winning the Supply Chain Talent Hunt
During the Annual CSCMP Global Conference that was held in Atlanta back in October, I was asked to conduct a video interview with SupplyChainBrain on "Winning the Supply Chain Talent Hunt".
In case you're not familiar with SupplyChainBrain, they are one of the world's most comprehensive supply chain management information resources. In addition to providing complete coverage of all fundamental supply chain principles, SupplyChainBrain identifies emerging trends, strategies and best practices, forward-thinking ideas, cutting-edge solutions and the latest innovations – and continues to write and report on these as they evolve and mature.
Here are some of the topics we discussed during our video interview:
Top mistakes companies make with their supply chain talent acquisition program.
Why supply chain executives need to develop a collaborative relationship with their Supply Chain Recruiters (link to one of my recent blog posts on this exact topic).
What's driving supply chain talent gaps and current trends within supply chain career development.
Best sources for recruiting top-notch supply chain candidates.
How to develop a robust talent acquisition strategy and program.
To view the video, please click here. Please note that if you aren't registered with SupplyChainBrain, you'll need to create a free account to view the video which only takes a minute to complete. Once you're registered, you'll have access to SupplyChainBrain's extensive catalogue of supply chain information such as video interviews, white papers, supplier directory, webinars and other useful information that would be beneficial for the supply chain professional.
To your success!
Rodney