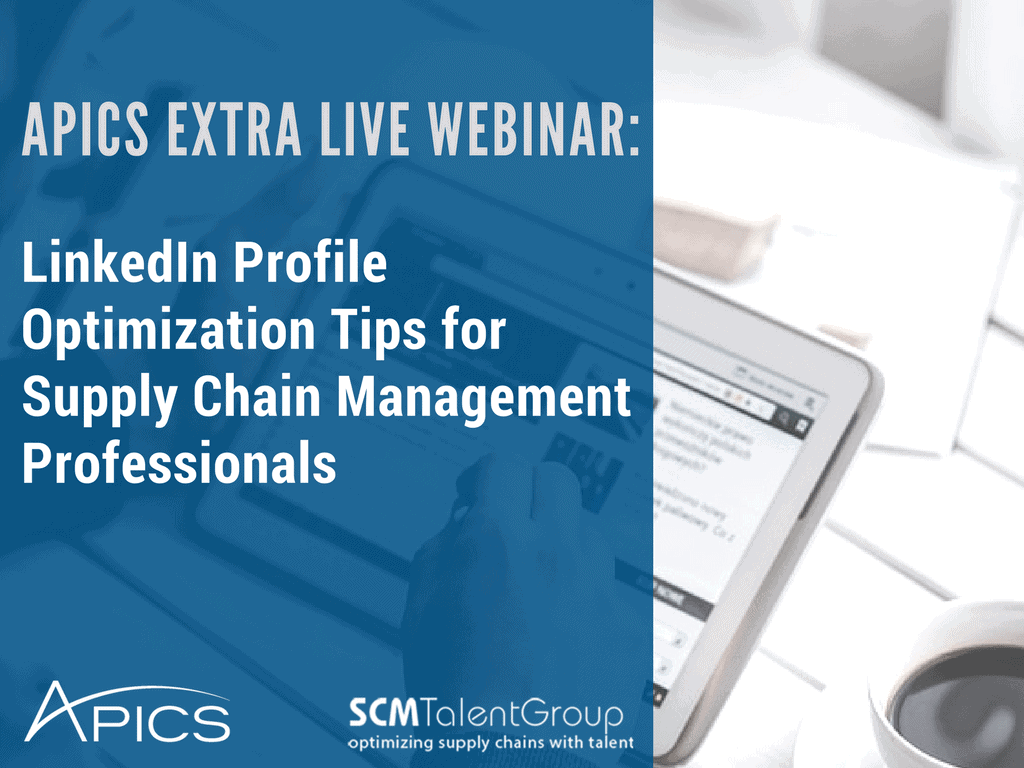 APICS Extra Live Webinar: LinkedIn Profile Optimization Tips for Supply Chain Management Professionals
In early 2017, SCM Talent Group Founder Rodney Apple, who serves as the current APICS Career Coach, joined the APICS magazine staff as author for the newly created Professional Development department. With this new role, he will be presenting in his first APICS Extra Live Webinar titled "LinkedIn Profile Optimization Tips for Supply Chain Management Professionals". APICS Extra Live webinars are designed to provide additional insight and information about recent articles from APICS magazine.
Date: April 20th, 2017
Time: 1:00 pm CT (2:00 pm ET)
Be sure to check out Rodney's APICS Magazine article "Simple Steps for Optimizing Your LinkedIn Profile" before the webinar.
Participants will discover:
How to elevate a LinkedIn profile to greatness
The top mistakes that profiles contain and steps to correct them
Key elements that supply chain management professionals should adopt
How one can showcase a unique value proposition by integrating personal branding into a profile. 
APICS Extra Live Webinars are available to APICS members only. To register, log into your account and you will be redirected to the registration page.  For more supply chain career development content, such as Rodney's whitepapers and past APICS Career Coach webinars, please visit www.apics.org/careercoach.
Past webinars include:
"Top Strategies for a Successful Supply Chain Job Search Campaign" 
"Discover Hiring Secrets & Recruitment Practices from the Employers Perspective" 
"Fast Track Your Supply Chain Career with Mentorship" 
"Master the Art of Networking"
"Optimizing Your Supply Chain Resume & LinkedIn Profile"
"How to Accelerate Your Career in Supply Chain"
"How to Develop & Execute a Winning Job Search Strategy"
"How to Master the Art of Job Interviewing"
"How to Evaluate & Negotiate a Job Offer"
If you are not a member of APICS and have an interest in learning more about membership benefits and how to join, please click here for more information.