5 Keys to Launch a Successful Supply Chain Career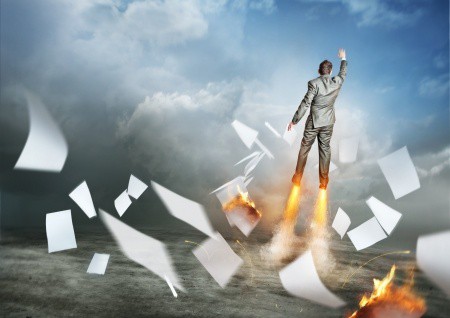 The field of Supply Chain Management offers a very broad and diverse range of career options with many opportunities for growth, making it both an exciting and overwhelming place to begin a career. It's very important to gain a baseline understanding of the supply chain career spectrum in efforts to set yourself up for success when launching a supply chain career.
---
Understand your personal strengths, passions & talents
The first step to launching a supply chain career is to understand your core strengths and the type of work you will likely be good at and enjoy doing. Many universities offer access to various career assessment tools through their career center such as aptitude tests, strengths finder, personality tests, and more. You will also want to brush up on the top transferrable skills employers look for in supply chain professionals, as this can help set you apart from the competition.
If you can establish the type of work you'd likely be good at and enjoy doing along with the ideal work environment that you can thrive in, the odds of being successful and content in your first job will significantly increase. However, if you find yourself in a situation where your first job is in a role or company you do not like, turn this opportunity into a learning experience and determine what steps you need to take in order to reach that ideal position or organization.
Here are some questions to help with brainstorming:
What are your key strengths?
What are you really good at? What do you want to be really good at?
Which industries are you most interested in?
Which industries are poised for growth vs decline?
What functional area are you most interested in?
What functional areas or jobs are poised for growth vs decline?
What size company and type of culture interests you the most?
What are your geographical preferences/limitations?
What types of roles interest you most?
Understand the depth and breadth of supply chain career options
Careers in supply chain are extremely broad and diverse, spanning all major industries such as Consumer Packaged Goods, Healthcare, Electronics and dozens more. Within the industries, there are many different supply chain practice areas to work in, from Logistics to Planning to Manufacturing and more.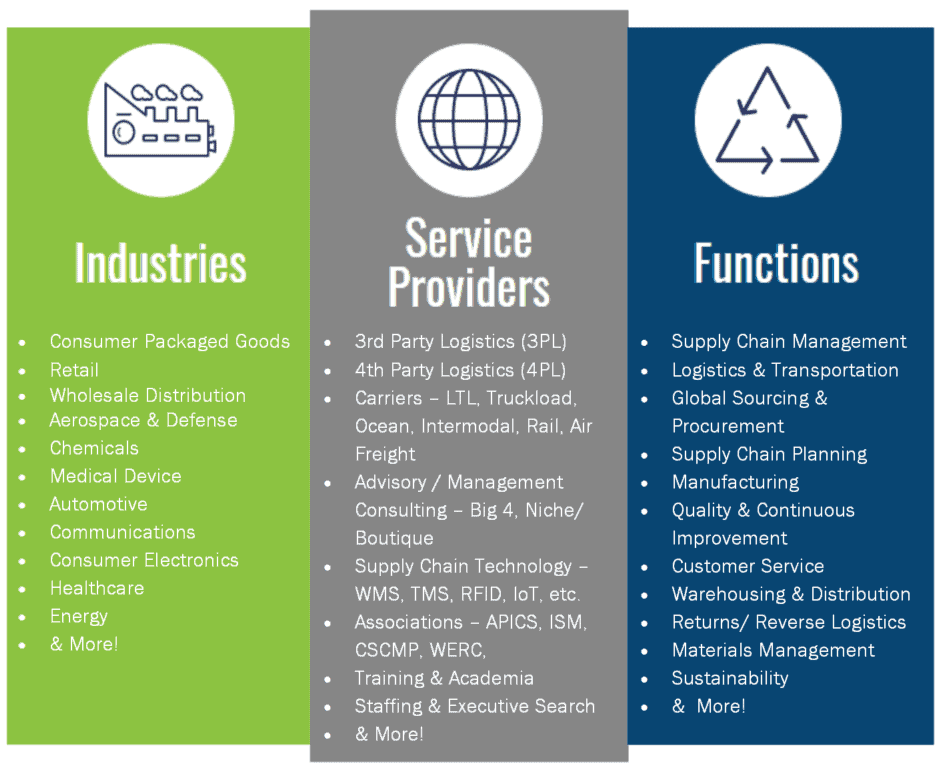 There are companies that manufacture and/or sell products, commonly referred to as "shippers", and several classifications of service providers that offer a wide array of products and services to shippers such as hardware, software, equipment, packaging, management consulting, contract manufacturing, transportation, warehousing, outsourcing and more. There are associations devoted to supply chain that provide content, training and certification programs, and dozens of universities that offer supply chain degrees as well.
You need to factor in company size and ownership too as these factors vary quite a bit and can have an impact, positive or negative, on your career satisfaction and trajectory levels. Company sizes range from small mom & pop to large multinational corporations, some publicly held, others privately held, and some that are owned or partially owned by private equity and venture capital firms. In large corporations, you will typically start working within a segment or functional area of the supply chain with access to a lot of resources. In smaller companies, you may wear multiple hats with broader exposure to the supply chain but with access to fewer resources. Reporting structures will vary quite a bit too, as does the degree of impact you can personally make to the company on a day-to-day basis.
A great resource for better understanding the plethora of career options within supply chain is through free resources, like YouTube. Here you can run some searches on terms such as "careers in supply chain" to identify good sources of video content. If you're fairly new to supply chain management, be sure to check out the YouTube channel for ASU's School of Business, which is chock-full of great informational videos that speak to most facets of the end-to-end supply chain discipline.
Stay up to date on supply chain news, trends and emerging technologies
In today's world, news, trends, and technologies change all the time, so it's important to stay up to date on current events, breaking news, blogs and trends related to the field you are most interested in. This can help you decide where to focus your career and serve as impressive conversation topics when networking or interviewing for a job.
The easiest way to stay up to date is setting up an RSS newsreader, like Feedly, where you establish the topics you want to read about, and the tool parses the internet for related articles. You can also set Google Alerts for specific keywords, phrases or topics relevant to your career, and Google will email you alerts when new content containing your keyword is published.
Network early and often through your university and supply chain associations
Outside the classroom, the best way to learn more about careers within supply chain is to connect and network with supply chain professionals. It is never too early to start building your network and if you start while in college, you'll be in a better position than your peers that wait until post-graduation to start developing their networks.
One of the easiest ways to network in today's world is through LinkedIn. You can run advanced searches on target job titles and industries to establish individuals you want to connect with. I recommend that you connect with the following types of people on LinkedIn: alumni, professors, friends, family, recruiters and HR professionals that specialize in supply chain, employees currently performing in similar jobs that you may have an interest in, and hiring managers and supply chain executives that work at your target employers.
Other ways to get started is through attending your university's career fairs and utilize alumni networks to find professionals in your targeted supply chain discipline. Many supply chain organizations off student memberships that are discounted from normal memberships and some offer student chapters such as ASCM which has over 200 affiliated student chapters on college campuses throughout North America.
Gain real-world experience through internships
With today's competitive job market, working a supply chain internship is extremely beneficial to set yourself apart from the competition. Finding an internship that closely aligns with the type of job you are interested in can help establish you are targeting the right position while earning relevant real-world experience.
Many internships are available through your university's career center or supply chain association's job board, but connecting with your networking contacts can provide you with exclusive internship opportunities not always available to everyone.
---
Having a strong idea of what in supply chain you want to do, developing connections early, and gaining real-world experience will set you apart from peers who wait until after graduation to begin their career search.
For more great resources to get started, be sure to check our more of SCM Talent Group's blogs, where topics include "The Keys to a Successful Job Search Campaign" and "The Importance of Supply Chain Career Planning", as well as our Resume Tips and Interview Tips.