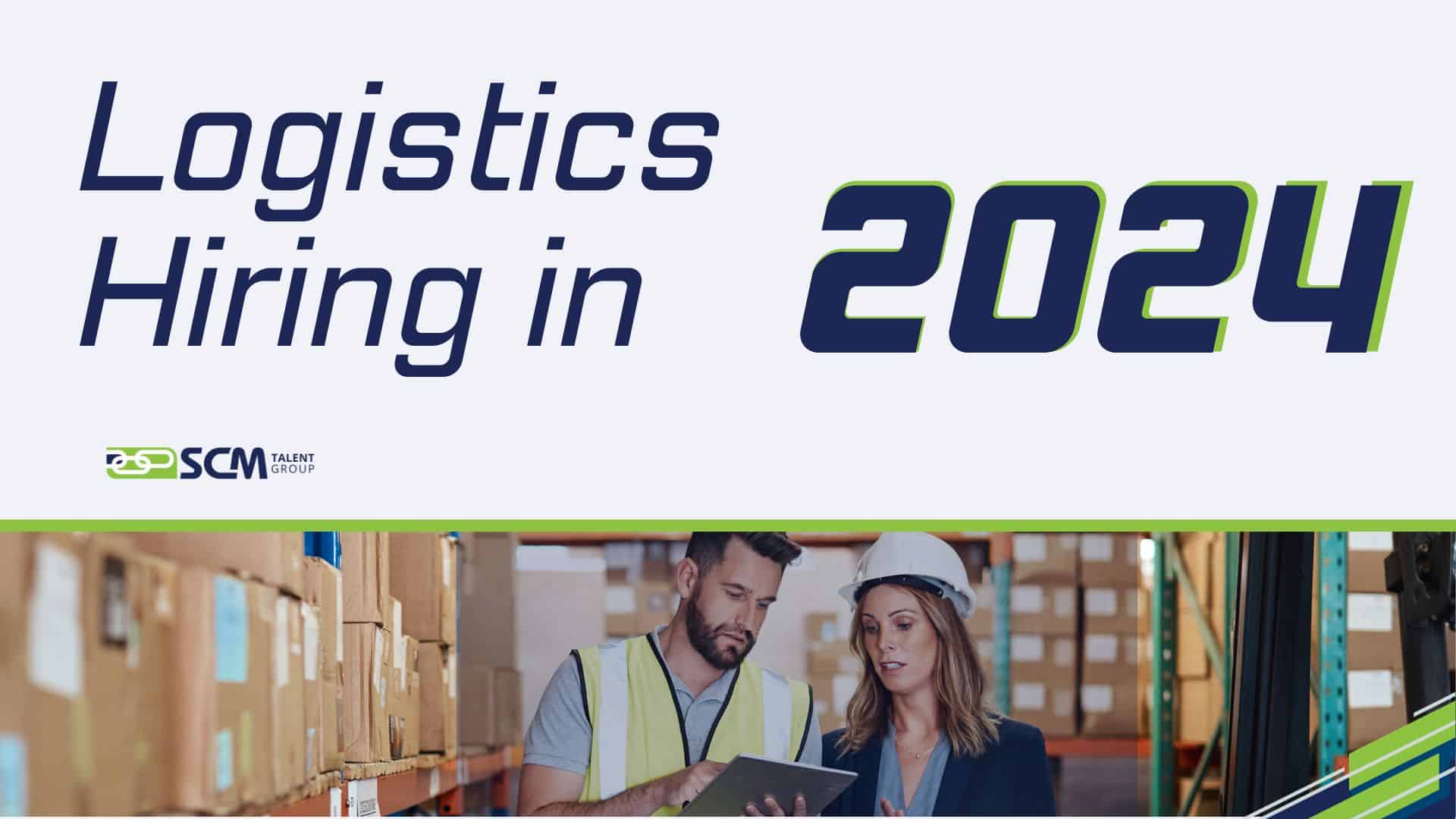 Tips for Successful Logistics Hiring Decisions in 2024
Introduction
Logistics hiring has never been simple and easy. 2024 will present many of the usual hurdles to finding enough people to work in this nuanced field. However, a supply chain world under constant stress will also continue to add layers of complexity to the talent landscape. Finding the best person for the job won't be easy but can help to secure your competitive edge while allowing your company to build capacity. We're going to help you understand what you need to prioritize as you explore logistics hiring and people development decisions in 2024. The intersection of supply chain and people continues to take priority. Finding the right leader or team member will be crucial to continued success as economic uncertainty permeates the global landscape.
Up the Analytics Game
Analytics has always been a crucial piece of the transportation and logistics pie. Knowing how much of what to move where and when requires a certain level of analytics skill to do the job. The complexity of this game has accelerated in recent years. This rapid rise and availability of digital technology has created platforms and tools that enhance real-time understanding of shipment trends and operations, especially to those in leadership roles having to make rapid decisions.
When hiring for your logistics team, having experience in high-end analytics is a non-negotiable requirement. Go ahead and pencil that into your job descriptions. If you're wondering if your job descriptions are properly set up, you may want to consult a supply chain talent expert to help you craft it. Could save you a lot of time on the front end and money on the back end by avoiding a bad hire. For your existing teams, this means creating the right development plan so skills and capabilities level up in 2024.
Simply put, data-born decision making is now the norm. Your leaders need to be working on the higher end of the analytics spectrum. Your operational team should also have a strong understanding of baseline analytics. This could include:
Daily and weekly trend analysis of shifts in your lane mix and routing guide performance to inform variances in truckload capacity strategy;
In the warehouse, it includes improved labor planning linked to upcoming demand planning to ensure you have the right crewing in your DC as peak season ramps up;
For last mile distribution, using real time route performance analysis to ensure you are building feasible routes to meet customer delivery windows.
There's a higher industry-standard for analytics in today's world of logistics. The people having the most success are being surgical about the choices they're making. They know that the pressures on cost can be  make or break in logistics so they're making decisions that protect service. Analytical horsepower enables these choices.
Operational Context Still Matters Over Automation
Logistics is still a business where operational understanding informs effective decision making. It also informs process improvements. Logistics hiring should take operations experience into account when building or expanding your team in 2024.
Ultimately, logistics is not a business for propellerheads. Logistics requires a healthy frontline understanding of operational situations in order to make the best decisions. Yes, automation and digital technology is rapidly taking over the scene (more on this next). But, the foundation of this practice is frontline knowledge and experience. You can run all the models that you want but if you don't fully understand things like peak logistics seasons. work or fleet sizes, you cannot manage those realities. You can't win with only theoretical models. 
To that end, logistics leaders need to be willing to interact with their frontline operators. They also need to build connections and trust with their teams in this manner. Getting out of the C-suites and onto the floors will exponentially increase morale and improve employee engagement. Your operational folks can also give you ideas for process improvements that you couldn't know without proper check-ins and a better understanding of operations. Your employees aren't robots. Treat them accordingly and your line will improve.
Hire logistics leaders who understand and can engage in an operational context and you will stabilize not only your bottom line but your teams as well. If you hire people who lack this experience, this needs to be a big focus of their onboarding as a few weeks in the operations can start building the right operational context.
Make-or-Buy Decision Making Experience is a Must for Logistics Hires in 2024
Are we gonna make it in house or outsource it? Can we perform this service or do we need to contract with a vendor? It's imperative for your logistics team to have experience with this decision matrix.
Logistics hiring in 2024 should focus on the ability to discern when to procure capacity from your employees vs. external partnerships. The rise in contract staff, co-sourcing initiatives, and consultants who can aid in building operational capacity poses more questions for future hires in this field than in the past. Traditionally, everything was done in-house. But the rise in tech, automation, and the difficulty in hiring enough skilled supply chain talent has given rise to more external partnership opportunities.
Your people strategy has to be tied to when and how often you engage third parties to help with the business. When business peaks, do you augment it with more full time hires or look outside for temporary help through the madness? A typical transportation and logistics calendar can be dictated by these peaks and fluctuations in consumer demand.
Regardless of make or buy decisions, your logistics hires need people skills to manage both partners and employees. This includes the skills to write a solid agreement and model should cost include partner services. It also means having a hands-on, fundamental understanding of the trenches will be essential to success and will be crucial for managing partners.
You need personnel who can lead people and not just a supply chain. Your best logistics leaders maintain a firm grasp of the operational context at every level. The CEO who knows where the facility recycling is located by the smell also knows that an investment may need to be made into exhaust facilities to improve the everyday work environment for their frontline operational technicians. Being an ivory tower leader doesn't endear you to your charges like a CEO who can quickly diagnose these issues with the authority and resources to make an immediate change.
Be thoughtful around where your people work. It always pays off in the long run.
Hire Logistics Leaders Willing to Adopt Tech in a Measured Way
This may sound counterintuitive for the digital age. But until technology is proven, it exists as a cost on a balance sheet without a proven benefit.
In 2024, automation as a trend will continue but adoption could slow. Logistics leaders need to be able to focus on strategy as well as automation and digital ''solutions." Many have been disillusioned by kissing a few too many frogs on the digital journey. Measure real time impacts of whatever tech you adopt and how it impacts your people and service to customers. Again, supply chain is a people business. As much as we all like to make a big deal out of all the new fangled technological advances, it's absolutely crucial to ensure that the new tech equips your team to make better decisions and fulfill demand more effectively. This is not to say that I'm a luddite resistant to change. Quite the opposite. 
What we're advocating for here is a paced adoption of technology with proven business cases. There's no need to be an early adopter in a time where the marketplace is being flooded with new supply chain technology solutions. Right now, it's important to allow the tech to mature. The hype can be oversold with extremely high price tags attached. You know what your business needs and what it doesn't. Don't be in such a rush to get ahead that you lose sight of what's working. Ask for references from vendors and talk directly to customers who have seen demonstrated benefits as the best antidote to kissing frogs. There's plenty of time to let other folks be the guinea pigs for unproven tech tools.
Conclusion
If we've learned nothing else from this exploration into the nuanced world of transportation and logistics, it's that the people are still the most important link in the supply chain. Your focus in 2024 needs to remain on the people skills of your leaders and front line teams. In doing so, you may be able to do more with less in times of economic uncertainty. Balance the need to deliver results with a commitment to growth. Your logistics cost structure is significant. Don't overburden budgets with unproven technology and make sure that your logistics hires have high-end analytics under the belt. Remember that there are not enough people with these nuanced skill-sets out there so don't lose sight of the long term trends and just dump people as a hasty cost saving measure. Commit to development,  upskilling, reskilling of your teams. You could really struggle to replace them with adequate institutional knowledge and understanding.
Businesses that succeed long term don't grow or contract too quickly. Patiently build for the future, friends.