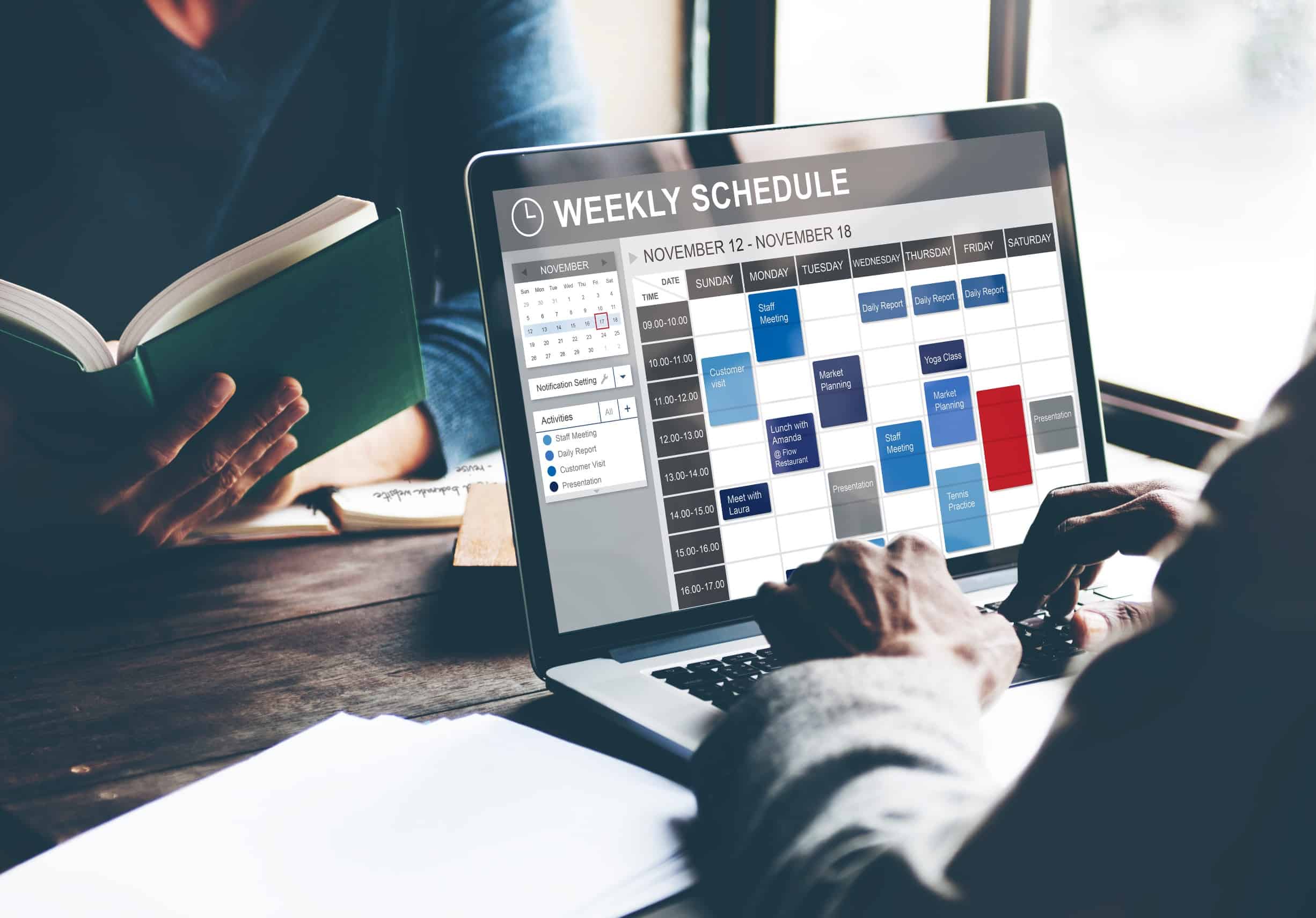 A Hybrid Work Schedule Provides the Best of Both Worlds
Introduction
Hybrid work schedules were once reserved for rare instances of satellite offices or other special circumstances. The Pandemic has disrupted the norms more than initially thought and made these working arrangements more prevalent across industries, including supply chain. Compensation packages in supply chain and other industries reflect these changes and employers are wise to accommodate new demands while candidates should be aware of limitations involved in certain working environments. Employers have been saying that remote working will die for quite some time. But, that doesn't seem to be the case.
Prevalence of Hybrid Work Schedules
According to a recent Forbes article, about 28% of people work some form of hybrid work schedule. Almost ⅓ of the entire workforce exercises this option on a regular basis. This says nothing about the workforce's feelings around hybrid and remote work. It is further estimated that 98% of employees desire some sort of flexible or hybrid work schedule.
You might be asking yourself "why" folks would want some form of remote work or a hybrid model (then again, you might not).
Work-life balance has been shoved to the forefront of American life since the Covid-19 Pandemic. Couple that with the rise of technology that got us through the Pandemic by facilitating our ability to work remotely, and employees all over the world are realizing that their time is better spent in home offices rather than commuting. Then there's the emergence of "bare minimum Mondays" which might take the hybrid work schedule a bit too far.
If someone can get out of bed, pour a cup of coffee, make breakfast for their family or themselves, hang with pets, and then sit at their desk in their home office to start the day, they save an immense amount of time. The needs of the household can be tended to with only a few moments away from their desk.
Think about it this way. You receive phone call from child/spouse/partner that the stove was left on and/or the dog is still in the yard. Here's what has to happen if you're at the office:
Hang up the phone.

Tell your colleagues/boss you have to leave.

Walk to your car/public transit.

Drive/Ride to your house.

Go inside and deal with situation.

Get back in car and return to office.

Feverishly get back to desk and make up for lost time.
OR
Get up from your desk and go turn off the stove/let the dog back inside.
This sounds simple but these are the things that weren't considered when the norm was to be in the office EVERYDAY from 9-5. It's no longer necessary to demand that uniform standard for every employee at every company. People's performances are being measured more on productivity and performance and less on attendance and presence. Employers writing job descriptions should consider including remote and flexible options when going public with openings. This helps candidates gauge interest in the opening.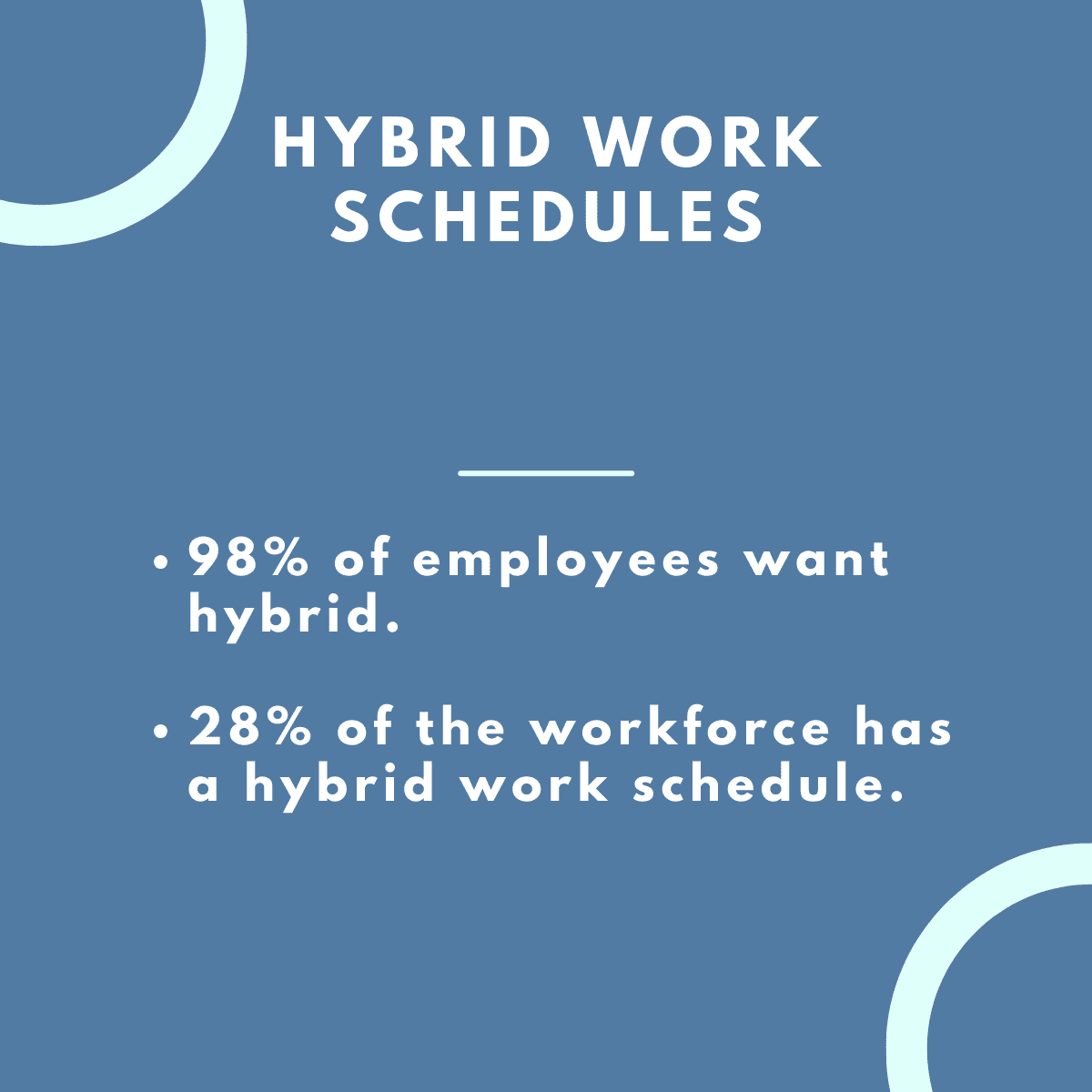 Future of Work is not One Size Fits All
People will be willing to return to the office but blanket attendance requirements are no longer viable options for most employees.
Employers are struggling with the costs associated with empty office space. Once thriving business centers that relied on office workers also are struggling to adjust to these new norms. Major urban centers like San Francisco and New York cite hybrid work model as reasons for declines in commercial real estate values. These spaces need to be repurposed because leases and mortgages need to be paid. However, this problem is not seen as one for employees to solve.
Be that as it may, some businesses flourish better with people present. It can be helpful to talk to supply chain talent professionals who can consult on these topics in a much more informed and nuanced manner. The hybrid model or hybrid schedule could work best for you and you may not even know it.
There is a siloing effect of having employees spread throughout the nation. Employee community is easier to generate with people working together in physical proximity to one another. This is especially true when confronted with a disgruntled employee. It's a lot easier to be more upset about something that can be seen as benign if you feel like you're part of something bigger. Isolation can exaggerate and amplify feelings that might otherwise be mitigated by in person conversations. Factoring in both sides of this equation requires a nuanced approach and roadmap for how to return to the office the right way.
It's hard to say what the new normal is but a lot of scholars seem to believe that hybrid and remote work environments are indeed the new normal. The success of these depends on management's approach to this and how well they can prepare with tools and tactics.
Employee Morale and Dedication Higher
One thing that can be harder to quantify is employee morale and dedication resulting from being able to work remotely, at least some of the time. Office space can feel stifling without the option for a hybrid schedule.
Consider the scenario above about having to leave the office to handle an issue vs. just getting up from your desk at home. A lot of work-life balance issues arise when one's job makes it more difficult than necessary to handle life's ups and downs. An employer who understands this and encourages a healthier work-life balance will be more prone to provide hybrid work schedules. This creates more dedication to the company. Why would you leave a job that allows you to live life on life's terms rather than simply impose rigid constraints and treat you as a number?
Employees with hybrid schedules are also more likely to go above and beyond because they appreciate employers who allow for this flexibility.
Hybrid Work Schedules = Best of Both Worlds
A Harvard Business School study revealed that hybrid work schedules "represent the "best of both worlds, offering workers greater work-life balance, without the concern of being isolated from colleagues."
Finding this balance in the supply chain world has been particularly difficult for employers. The number of openings far exceeds the available talent, especially for lower level employees. Those seeking to hire specialized talent should be considering these options. Specialized supply chain recruiters can help to craft up to date compensation plans and provide meaningful feedback on benefits packages that include remote work. These same recruiters can help to negotiate the back and forth between fully remote and hybrid/flexible work schedules.
Difficulty Implementing Hybrid in Supply Chain
It goes without saying that not every gig is able to worked remotely. No matter how fancy the technology, some operational positions in supply chain have to be done onsite. This can create a bit of tension between those who are able to deploy a hybrid work schedule and those who are not. Middle management needs to manager this change and do what they can to offset negative feedback with other incentives and improved working environments. Ensuring that your front line team has top of the line tools, climate controlled areas, and digital technology can go a long way towards ensuring better overall employee harmony. Virtual supply chain careers are more prevalent than they used to be thanks to a hybrid work schedule.
Conclusion
The work life balance revolution might be normalizing some but it seems that it is here to stay. Numerous studies have been done in the last 3 years that provide compelling data for c-suite leaders to consult when budgeting compensation plans. Managing this change can be difficult and will fail if not properly implemented in a nuanced fashion, including procuring requisite buy-in from your teams. Specialized recruiters and talent professionals can help to streamline the hiring and talent acquisition processes while also consulting on proper compensation packages with an understanding of the prevalence of hybrid work schedules across positions and industries. Regardless, this is a development that is here to stay and leaders would be wise to find the right balance for deploying this tactic with your teams.