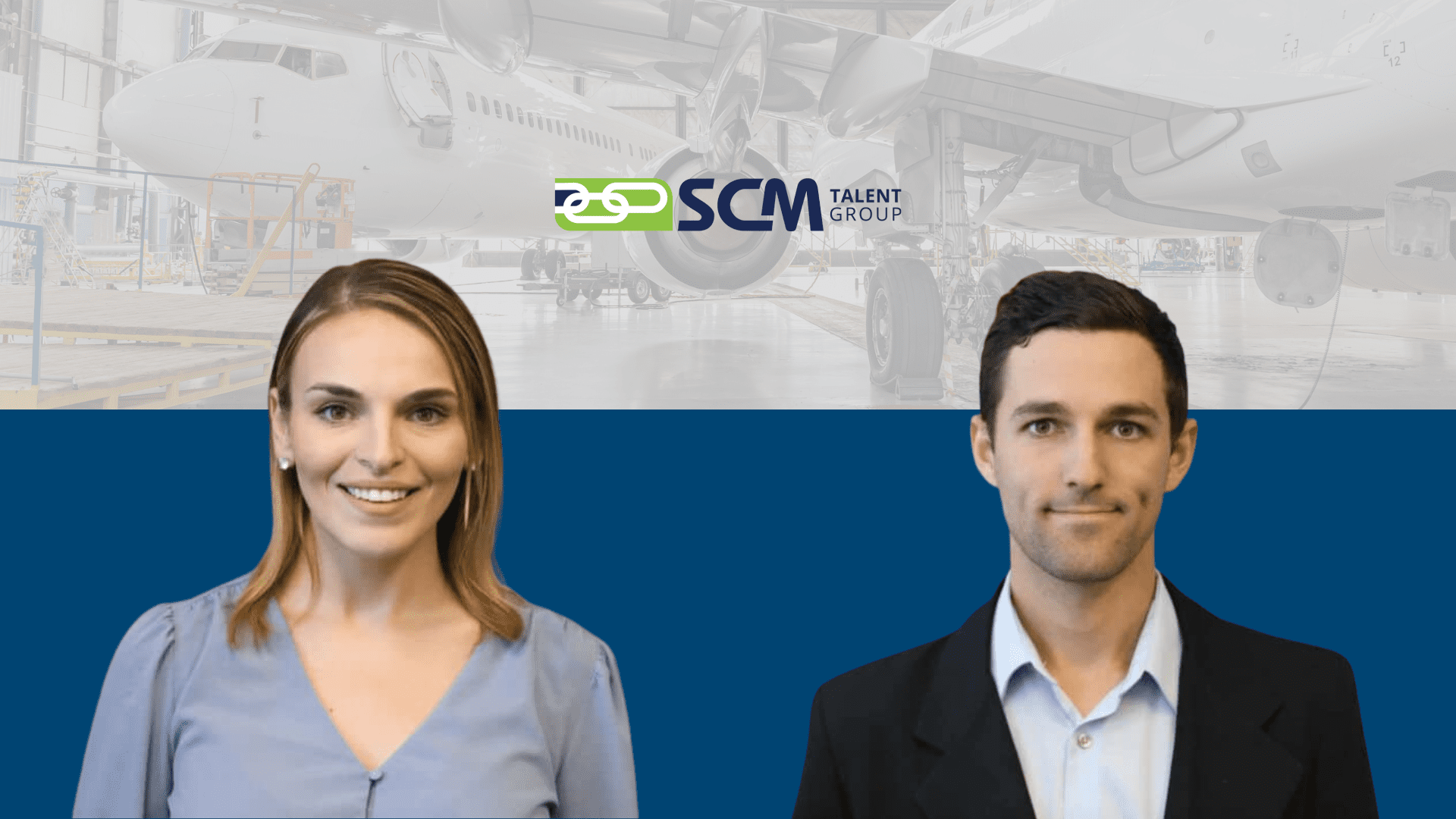 SCM Talent Group Expands Recruiting Team with Two Boeing Supply Chain Professionals
2022 has brought with it a good deal of growth and change to SCM Talent Group. Part of that growth was the addition of two supply chain recruiters who both worked for Boeing. 
David Miller and Jessica Crawford bring with them an understanding of supply chain operations from one of the world's most recognized brands. The hands-on experience gained from working in supply chain at Boeing can only increase their overall aptitude to partner with SCM Talent Group's clients. One of our key differentiators is that we actually know the supply chain. We understand your nuanced supply chain talent needs and are able to meet them in the most efficient and effective way possible.
We're very grateful to have Jessie and David with us and to have them share their career journey in their own words!
David Miller, MBA
My initial role at Boeing was in a rotational procurement group. In this group we would purchase lower dollar value (under $100k) requirements for the indirect side of the business. We bought things like capital equipment, IT hardware and software, tools, HR and corporate services, etc. In this role, I learned the basics of procurement; things like negotiations and how to read legal contracts, as well as how to work cross functionally with finance, the business partner, and the legal team. After purchasing various commodities in this group, I moved into the capital equipment team where my focus was on heavy machinery and HVAC systems. My largest purchase here was a $5 million HVAC installment for one of our sites. My most memorable procurement project was for the stairs/ladder that you walk up to get into the plane from the ground. I spent a majority of my time in this group running my desk and ensuring the business partners were getting what they needed, while maintaining the best costs and terms for the business.
During my time at Boeing I was one of the site employee orientation leaders. I welcomed new Boeing folks on their first day and walked them through some history and introductory things about the company as well as some details about our specific site. This was always one of my favorite parts as I would establish friendships with the new employees and they would come to me for questions later on. This made me realize I really enjoyed working with people and helping them settle into their new roles. This realization and learning a bit about what recruiting folks do, made me want to take the leap into the recruiting world with SCM Talent Group. Having the background in supply chain from my time at Boeing has really helped me hit the ground running and understand the lingo and many of the roles that I have been working.
Drawing on the direct hands on supply chain experience that I picked up from my time at Boeing (and Amazon), I am able to connect with both the clients and the candidates because I've been in their shoes and have done some of the roles that they are needing to fill. Being able to tell them "I did that myself" establishes a level of credibility that recruiters directly out of school don't necessarily have. I believe this enables me to find the best talent because I know what the role entails and how to find the experience that it truly requires.
Getting an MBA helped me to understand the big picture of how companies operate efficiently. It provided me with the skills, knowledge, and leadership to excel in any business. Additionally, it further developed my entrepreneurial spirit and helped me to network with like minded individuals.
I have really enjoyed my time so far at SCM Talent Group and feel like it enabled me to combine my passions for Supply Chain with that of Recruiting and helping people. Luckily the team at SCM Talent Group helped train me on all things recruiting and I was able to dive straight into this exciting and fast paced world. Looking forward to what the future at SCM holds!
Jessica Crawford, MBA
During my time at Boeing, I worked as a Supply Chain Specialist and rotated to 3 different groups within Supply Chain, all within the Spares Division for DLA & Fighter Jets. In my first role, I reviewed contracts for executability. In my second role, I performed lead time analysis for spare parts for aircrafts. In my final role, I oversaw one specific contract and made sure that we were executing and delivering the parts on time.
The number one thing that drew me to SCM Talent Group is the people and relationship centered approach to how business is conducted. As an employee at SCM, I feel as if I am treated like I am a valuable asset to the team. This is shown across the board from the benefits and work/life balance to having team members and leadership give me a place for my voice to be heard. I've been in multiple team meetings where people have gone out of their way to make sure I had a chance to speak because they value my input.
Likewise, one of my favorite parts of working at Boeing was that they placed a high value on Global Equity Diversity and Inclusion. During my time there, I was invited to be on the leadership team for "Boeing Women in Leadership" which is one of their special interest groups. While on that leadership team, I felt very valued and seen and understood because Boeing leadership took time to invest in these groups and give a voice and advocate for women to not just be a part of the workplace but to be leaders within the workplace.
Personally, my approach in any role has been people-centered at the core. Whether I have been working on negotiating a contract or working with procurement to expedite the shipping on raw materials or am recruiting a candidate for a Supply Chain role; establishing strong business relationships is the key. I value making everyone feel like they belong and have a voice and that their wants and needs are important.
My experience and knowledge gained as an employee at Boeing has been a huge asset for me in my role at SCM Talent Group. I have gained such a strong foundation by working in many of the roles that I am now recruiting for. As we know, the pandemic has had a huge impact on supply chain, and I was in the trenches with everyone working supply chain during that time.
I can empathize with both clients and candidates about how they have been impacted over the past few years, and I have firsthand experience working through many of the same challenges that our clients and candidates are now facing. That understanding has given me the advantage of being able to ask the right questions and make the right connections between candidates and clients to lead to extremely successful placements.
I have had multiple calls where I have had a client or candidate explain their current situation to me and I have been able to say, "I've been there, and this is what has been successful for me…" Being people centered and having that depth of understanding of supply chain, has made the recruiting experience I've had at SCM become much more robust than just finding resumes and passing them along. I have been able to build relationships and invest in the long-term success of clients and candidates. 
A big point of emphasis in my career was earning my MBA while working full time. That taught me the value of discipline, tenacity, and hard work – not resting on my laurels. Each of these are values reflected at SCM Talent Group.  Also that I gained valuable knowledge in HR and in Operations so those both helped in this role. I also met a mentor who introduced me to the HR world. I wound up going back to get my certification in HR because of that, which has been a big help.
Conclusion
We are told every day how hard it is for employers to find the right supply chain talent. Some have even tried more generalist recruiters and not been at all satisfied with the results. Because we have such a client-centric focus and work to solve their specific problems, it's very important that our talent acquisition experts are equipped with nuanced supply chain knowledge and experience.