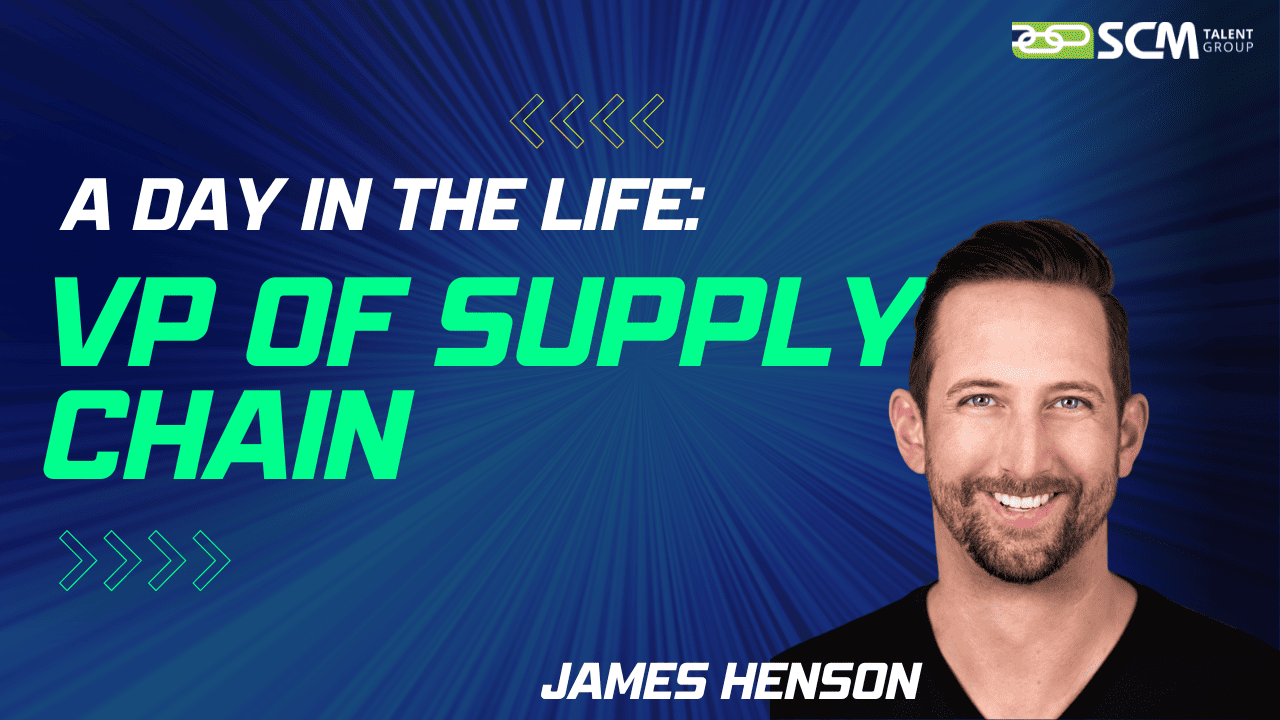 Podcast: A Day In The Life of a Vice President of Supply Chain
Hosts: Rodney Apple
In This Episode:
We explore the role of Vice President of Supply Chain with Jim Henson, VP of Supply Chain at Red Bud Brands. We ask Jim questions related to:
What are your day-to-day position duties?
What do you enjoy most about the position?
How can you advance from your position?
Who is Jim Henson?
Jim is an experienced startup executive with nearly fifteen years in CPG operations. He brings expertise in developing supply chain strategy, unlocking operational efficiencies, forming processes for business scalability, and creating supply chain optimization. Prior to joining Redbud, Jim worked at Diageo, Soylent, and GT's Kombucha where he gained end-to-end supply chain experience in his various roles.  He is an expert in implementing cost savings initiatives and starting up new manufacturing facilities.
Jim holds double bachelor's degrees from the University of California, Berkeley and currently resides in Manhattan Beach.
[00:01:05]
Rodney Apple:
We appreciate you joining the Supply Chain Careers podcast Day in the Life of a Supply Chain Professional series. Jim, would love to know how long you've been working in this particular area and what led you to pursue this type of role that you're in now. [00:01:21]
Jim Henson:
I've had a fantastic career. I'm coming up on 15 years in supply chain and operations. All of that has been in the CPG world and in a much different position today than where I started out. Coming out of school, graduated from the University of California, Berkeley. Really had a passion for food and bev. Immediately fell in love with operations. As I worked starting out at Diageo, which I was there almost seven years, started out on the manufacturing floor in Chicago, Illinois and really fell in love with operations because as a former athlete, putting KPIs up on the board was a lot like putting points up on a scoreboard, was able to get crews motivated, people hungry to win, and, love that competitiveness, seeing new challenges and problems every single day. [00:02:15]
Rodney Apple:
When it comes down to the hard and soft skills, what would you say that folks would need to gain experience and acumen in to qualify for the type of role that you are sitting in today? [00:02:27]
Jim Henson:
Going to college really was a springboard for me. That was an investment I wanted to make and was going to allow me to get into the career I wanted. Throughout my career, my real education started on the factory floor. I worked in several different roles to get to where I am today. I started out with the manufacturing role. I then went to a continuous improvement role and scheduling role in Napa, California where I worked in wines. I then worked back in Norwalk, Connecticut as a scheduler for the factory that I originally started out in Chicago, Illinois. From there, I took on a team lead role and went back into manufacturing down in the Virgin Islands for Captain Morgan Rum. I was then fortunate enough to be part of the Bulleit Bourbon Distillery startup in Shelbyville, Kentucky. It was $150 million startup and got to see that go from dirt to full operating distillery. I caught the startup bug, which a lot of people, you either love it or you don't. I fell in love with that sort of energy, that startup energy, having to figure out new process and complex problems in a very short amount time and then went to GT's kombucha brewery, where I started up the brewing operations and a much larger startup. It was 300,000 square feet. And then, my journey took me into a director role where I oversaw several manufacturing facilities, supply planning, procurement, and all of the logistics, and had another role at Soylent as director, before coming to Red Bud Brands as a VP.
And during all those roles that I was in, each one allowed me to see the supply chain from a different perspective, really get an understanding of who my customers are within the supply chain, as well as who my customers are that we're selling product to. And so that allowed me a very unique opportunity to now manage an end to end supply chain and understand the challenges and what the needs are of each of those parties within a large end to end supply chain.
[00:04:45]
Rodney Apple:
You've certainly covered a lot of ground and I think that's important for our audience to understand too is, supply chain is a system of processes and functions and they all have to collaborate and connect. Could you talk a little bit about what you do on a day to day basis. [00:05:01]
Jim Henson:
In terms of answering your question about my day to day. At Redbud Brands, I am working at any time with 10 to 12 different companies. My team and I oversee everything from the new product development formula creation, I work with chefs, food scientists, then I also have members of my team focused on procurement for that new product development and we do end to end supply chain RFPs, 3PL management, all the way down to logistics and customer service.
But as a member of the shared service team at Redbud and servicing all the different portfolio brands that fall under our umbrella. My job is to really set each CEO up for success, design their supply chain, ensure that they're gonna have product on time, the best possible formulas, and really run that company's operations day to day, reporting that back to them so that they can focus on growing the company.
[00:06:06]
Rodney Apple:
That sounds like a lot of fun, and I'm sure there are a lot of challenges as well. As it relates to the stakeholders, we know in supply chain you have your internal stakeholders or internal customers, and then we have externally, you mentioned it just a minute ago, suppliers as well as getting things through to the end customer. Could you talk a little bit about the folks or groups you tend to engage with internally and externally? [00:06:33]
Jim Henson:
Yes. The person I am most interacting with is the founding members of the companies, understanding their vision, understanding what they want to create, understanding what struggles they are currently experiencing. If they're not just in incubation, but if they're in one of our accelerator brands, are already out in the market and fall under the Red Bud portfolio. What exactly do they need operationally in terms of help and how can we support? No matter what position you're in, in terms of supply chain, it's important to understand what the real problems are. And you do that by listening, finding out what root cause is, and being able to say, Okay, we're going to take these steps to fix that. So I typically interact with company founders, also their boards to report back, how we're doing operationally. I also interact with suppliers, co-manufacturers, 3PLs, logistics brokers. Now, I don't interact with them every single day as my team does most of the day to day operations, but wanna make sure that they understand our vision, where we're going in terms of forecasting and, how we need to develop the best possible relationships. [00:07:49]
Rodney Apple:
Fascinating. Thank you. Would love to hear what you enjoy most about the job. It could be the role today or it could be going back into some prior roles. [00:07:59]
Jim Henson:
Yes, my favorite thing about the job is people. I love making consumer goods. And at Red Bud we make everything from supplements to cannabis chips to Christian Coffee brand. And so we have a very diverse portfolio, which I always love sharing with family and friends and knowing that I'm getting fantastic product to the end consumer. But what is number one in every role I've ever been in is a people. I love growing a team, creating a winning culture, and really seeing that team rise to the next level. My job as being a coach and to be a successful leader, I'm constantly trying to give my team all the knowledge that I've gained my career and basically work myself out of a job. And so they're always rising to that next level. That is really the most rewarding thing in my career, is seeing others advance and grow skills. [00:08:55]
Rodney Apple:
And I'm sure you have to flex the soft skills quite a bit if you're working with multiple companies that have different sets of values, different cultures, I would imagine. So what's the key to success with doing that? [00:09:08]
Jim Henson:
Understanding what they want and need. Treating people like you want to be treated. It doesn't really matter what level and how much money is on the negotiation table. It's really understanding what that party across the table wants from you or needs, and how you can be the best partner to them. And while you are understanding that, treating people with respect, kindness, and making their day a little bit better no matter how challenging the situation is. [00:09:35]
Rodney Apple:
Speaking of challenges, we know there's been quite a bit of challenges to say the least, in supply chain. We'd love to hear just maybe someof the top challenges you've had to face or that someone would face in a similar role. [00:09:47]
Jim Henson:
Yes. So it has been very unprecedented times, through Covid and still there is a ton of challenges and interruptions to supply chain today. It's one of the things I love about my job is being able to come in, you're faced with a new problem, a new situation that you typically haven't seen before, and to rally the team, get them fired up and say, How are we solving this today? And how are we gonna do it better than our competitors? Because that's really what's going to allow companies to win and lose in this environment today. Is if they are able to stabilize operations in an unstable environment, it's going to give them the edge that they need. Especially with small to medium size companies.
So, typical challenges over the last year. Obviously everyone knows that there's been massive interruptions to the global supply chain. That's on the transportation side. That's actually on ingredient material availability. That's something that we had not previously dealt with in the last 15 to 20 years. And, it's really been quite painful for a lot of companies, especially if they're not massive players. They've seen not only interruptions to ingredients and materials, but also price hikes. And so one of my main objectives over the last year has been to really settle the noise, ensure that we have supply and that we're minimizing those lead times as well.
And so a lot of what we've done at Redbud is we had a global supply chain. We've really brought most of our suppliers more domestically or closer to where we are manufacturing product. And so we've done a complete transformation. We're continuing to launch new products out in the market. And doing that has been a big challenge with lead times and communication has really been the number one thing, whether we're communicating internally or externally. Communicating those timelines so everyone's on the same sheet of music.
[00:11:49]
Mike Ogle:
During this short break, we recognize that this podcast is made possible by SCM Talent Group. The industry leading supply chain executive search firm. Visit SCM Talent Group at scmtalent.com. To search for or to post supply chain jobs, visit the supply chain job board at supplychaincareers.com. [00:12:12]
Rodney Apple:
We've talked quite a bit about food and beverage. Our goal here is to cut across the different functions and give people perspectives of what it's like to work across the supply chain. But from an industry perspective, what's unique about food and beverage as it relates to supply chain that our audience should be made aware of, especially those that may be wishing to pursue a career within this particular industry. [00:21:35]
Jim Henson:
I think the number one thing that is really unique to supply chain and CPG is compliance, compliance with sourcing, and then also the quality programs. And so at Redbud, we take quality very, very seriously. And to stay compliant as you're launching new brands, To stay compliant for existing brands is a real challenge. It takes a ton of upkeep. It takes a lot of attention detail, and it's something that we really pride ourselves in. We cannot launch better for you brands if we don't have that compliance piece a hundred percent buttoned up. And so it's something that is very necessary to protect consumers and something that we spend a lot of time on. [00:13:16]
Rodney Apple:
We're also looking at business models and structures, so what about the business model, this is a unique one, right? It's venture capital, private equity. There's similarities there, but could you speak to what some of the career aspects would look like within that particular model that you're in? [00:13:33]
Jim Henson:
It is a very unique model where we do have a shared service team that spans with marketing and sales and operations, and operations is really, it's huge, in terms of the end to end supply chain services that we provide. Not only do we help incubate companies, but we also help accelerate companies. We go in, understand what challenges that they're having and help get them to that next level. And so within that there's a lot of behind the scenes, doing our due diligence when we're investing in companies and we're not able to do that without really understanding supply chain fundamentals. Understanding that company and what is going well for them and what is not going well. And my career, did not start out in venture capital, my recommendation to younger folks that do want to go into private equity, venture capital and be a part of a shared service team, and do something similar to what I'm doing, is really learn the fundamentals in every single role that you're doing and understand end to end supply chain. And you do that by taking roles throughout a supply chain so you can really understand exactly how a company operates. And when you look at a new company, if you're investing, you understand, even if it's not something you're familiar with, basically the core and structure of that company and their operations. [00:15:02]
Rodney Apple:
Everyone's career path is unique and in supply chain, you can get to the end destination and taking different routes, but it is very important, as you said, if you want to work in a broader end to end supply chain role, you do need to take assignments across the different functions, whether it's procurement or planning or operations in a plant, or even a distribution center. Where could you go from your current role? [00:15:22]
Jim Henson:
Yes. A COO role at some point would be an obvious next step. Running a company is not too far of a stretch from going from VP to a CEO. A CEO that truly understand operations, a lot of 'em have marketing or sales backgrounds, but operations is the foundation of the house. If you don't have steady and efficient operations you can never have a well functioning business. You cannot grow a business that doesn't have that foundation, and you certainly can't sustain one. And so, I think that CEO role would be a easy jump later on in a career. Going from VP, with seeing so many different brands and so many different supply chains, consulting is something that could easily be done as well in my latter years. Not ready to do that yet. I'm having way too much fun at Redbud but, definitely something could see myself doing as I look towards retirement. [00:16:18]
Rodney Apple:
Excellent. I think that just goes to show the options are only limited by your imagination and your drive and passion and ability to learn new things. So Jim, anything that you would like to share that we haven't covered for our audience. What you would advise those that are seeking roles similar to the roles that you've had? [00:16:37]
Jim Henson:
Yes. So my big piece of advice is take different roles throughout the supply chain. They're not gonna be your dream role , but have fun and learn everything you can. Squeeze everything you possibly can out of that role and make sure you become a functional expert in that role before you move on. It doesn't do a whole lot of good if you jump role to role and don't fully understand that aspect of the supply chain.
My big advice is to have fun. Even in the early stages when it was very tough working on a factory floor, 14 to 16 hours a night. I was on night shift. I learned to gamify things and made it a fun time where it could have been very, very challenging and something that I didn't want to do. I know it wasn't my end all be all, but, I found in each of my career chapters how to have a very good time on a day to day basis and also overall make other people smile.
[00:17:32]
Rodney Apple:
I think one thing we did not touch on is job stability, it's not going away. It's always been there. It exists in pretty much every industry. And then when you think about food bev and CPG, things that we pretty much need to survive and thrive as human beings, that's always gonna be there too. So, there's something to be said about that on the job stability side of the house. [00:17:53]
Jim Henson:
Yes, definitely. It's one of those things that's gonna be around for a long time. If you're interested in problem solving that gets harder every single day, then supply chain's for you. [00:18:02]
Rodney Apple:
Well, Jim, thank you so much for joining us today. We really appreciate you coming on the Supply Chain Careers Podcast Day in the Life of a Supply Chain Professional series. Thanks so much. [00:18:15]
Jim Henson:
Thank you, Rodney. It's been a pleasure. [00:18:21]
Mike Ogle:
Thanks for listening to this episode of the Supply Chain Careers podcast. Be sure to listen to other episodes and sign up to be notified when future episodes are released as we continue to interview industry leading supply chain experts. This podcast is made possible by SCM Talent Group, the industry leading supply chain executive search firm. Visit SCM talent group at scmtalent.com. To search for or to post supply chain jobs, visit the supply chain job board at supplychaincareers.com.