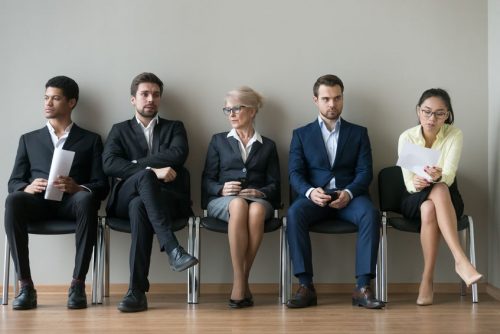 Top 6 Supply Chain Job Search Tips
As a veteran Supply Chain Recruiter, I am often asked by job seekers for my advice on how to develop and execute an effective supply chain job search strategy. Before I respond with my suggestions, I always ask the job seeker "what does your job search strategy look like now?"
You would be surprised at the types of answers I have received. I've had job seekers tell me "my resume is on Monster and I'm waiting for the phone to ring" to even worse, "what job search strategy?".  After receiving one of these responses recently, I was prompted to write this article which contains my top six supply chain job search tips.
While this is a pretty long read, I'm hopeful that you'll discover some new techniques to incorporate into your job search strategy that will help lead you to the job of your dreams.
1. WRITE DOWN YOUR JOB SEARCH STRATEGY
This is by far the most critical component of any of the supply chain job search tips. Like anything else in life that you're striving to achieve, you must create and write down your goals, develop corresponding action steps, track your results and adjust your action plan along the way. Like creating a supply chain career plan, your job search strategy should incorporate the following, at a minimum:
Key Goals – Write down your main goals and keep them in close sight as a constant in-your-face reminder. If your goals are "out of sight" then they'll likely become "out of mind" which in turn prolongs "out of job".
Target Employer List – It's critical that you take the time to research potential employers via websites such as LinkedIn, Indeed, Hoovers, Chamber of Commerce, Better Business Bureau, Glassdoor and the like. Poll your professional network, friends and family as well to get their suggestions for great companies to work for. Once you complete your target employer list, share it with everyone you know including Supply Chain Recruiters that you come into contact with and ask if they have any contacts that work at any of the companies on your target list. If they do, then politely ask them if they could make an introduction or if they would be willing to pass along your resume. This step alone can yield tremendous results!
Daily/Weekly/Monthly Action Plan – Once you determine your goals and the companies you want to market yourself to, map out an action plan in efforts to achieve your goals. This should include actions steps such as attending a certain amount of supply chain networking events per month, making X amount of cold calls per day to hiring managers at your target employers, connecting with Y amount of new contacts on LinkedIn per week, taking colleagues from your supply chain network out to lunch or dinner Z times per month, etc.
I have created a Job Search Activity Tracker (Excel spreadsheet) that you can download and utilize for developing and tracking your job search activities. Similar to your goals, keep your action plan in front of you during the day especially your daily To Do List. I also recommend that you complete your daily To Do List each evening as opposed to waking up and writing them down. This can really help you increase your productivity plus you won't lose any sleep at night wondering what you need to do the next day.
Track Your Progress and Results – Your target employer list and action plan will constantly evolve so it's best to keep track of everything via a spreadsheet application such as Microsoft Excel. This will allow you to easily keep track of your target employers, hiring manager and recruiter names, contact information, action items, results, etc. In addition, you'll want to track a few key metrics throughout your job search such as the ratio of job applications to interviews, ratio of interviews to offers, which sources yield the best results, etc. As you discover which techniques are driving the best results, adjust your action plan accordingly.
2. OPTIMIZE YOUR SUPPLY CHAIN RESUME AND LINKEDIN PROFILE 
In today's job market, your resume and LinkedIn profile are your two most important marketing tools. This is why it's imperative that you fully optimize both for your target audience.
Resume Optimization Tips – The number one goal of a resume is to generate a "positive response" from the target audience. This could be a call from a Supply Chain Recruiter to ask a few questions or it could be an invitation to interview. To be most effective, your resume should be designed to help Supply Chain Recruiters and hiring managers quickly and easily understand your most important and unique skills, experience, past performance and accomplishments. I encourage you to review my top supply chain resume tips on our website along with a blog post I wrote a while back that details my top 5 tips for optimizing a supply chain resume.
LinkedIn Profile Optimization Tips – In a nutshell, this basically means completing your profile in a way that maximizes the odds of Supply Chain Recruiters and hiring managers discovering you on LinkedIn. You'll need to utilize some of the techniques Search Engine Optimization (SEO) specialists use to boost results for their website search engine rankings and ultimately drive more website traffic. You'll incorporate keywords that are popular for your industry/title/background within various sections of your LinkedIn profile such as the Headline, Summary, Job Skills and for each Job you've held. Here are a couple of great articles that explain the steps you'll need to take to optimize your LinkedIn profile: one from Social Media Examiner and another by TopRank Online Marketing.  By following these steps to optimize your LinkedIn profile, you should become more discoverable which in turn should lead to more job inquiries and connections on LinkedIn.
One last LinkedIn tip: please don't make the same mistake many LinkedIn newbies make which is to complete a profile then sit back and wait for things to happen. You need to be an active participator as well. For example, you should join the most popular LinkedIn Supply Chain Groups where you can post and respond to supply chain discussion topics with peers from other companies. The more you participate on LinkedIn, the more exposure you'll gain to potential employers and Supply Chain Recruiters while rapidly expanding your professional network.
3. AUTOMATE YOUR JOB SEARCH
Spending time surfing job boards can be a huge drain on your time not to mention is a mind-numbing chore. Instead of wasting valuable time checking various job boards for new job postings each day, you should enable the jobs to come to you.
Most of the big job boards allow you to set up Email Job Alerts that come into your email inbox on a daily basis, based on search criteria that you specify when you set up the job alerts. My favorite by far is Indeed.com. With Indeed, you can create as many Email Job Alerts as you like and specify criteria such as location, job title, keywords, company name, etc. If you need advice on how to set them up, I encourage you to review Indeed's Job Alerts Tutorial.
While Indeed captures most job postings from other career sites and job boards, it doesn't capture everything. I also recommend setting up email alerts that are much broader in scope via Google Alerts (here is a great tutorial for setting up Job Searches in Google Alerts) and/or Talkwalker. These tools will crawl newly indexed web pages (blogs, job postings, news, etc.) in "real time" and will email you the results based on the time intervals you select (instantly, daily, weekly, etc.).
The key to setting up "accurate" email alerts is to learn how to use advanced internet search engine techniques such as Boolean logic. Here is an outstanding Googling for Jobs tutorial by Jim Stroud that explains how to utilize advanced/Boolean search logic to search the internet for jobs.
As you receive job alerts via email, be sure to document each and every position you apply to within your action plan spreadsheet. Why? You will look completely unorganized if someone from a company you applied to makes contact and you have no recollection of the position you applied to.
4. GO THE EXTRA MILE!!!
Now that you're (hopefully) receiving plenty of job leads in your inbox and have been applying online to some job postings, another tip for your supply chain job search is focusing a good chunk of your time on following up on your job applications. While some of these tactics can be a bit intimidating, I can assure you that the job seekers that go the "extra mile" significantly increase their odds of landing a job faster than those that only employ the standard "post and pray" method.
After you apply online to a position, go to LinkedIn's Advanced Search Page and type the Company Name into the Company field and hit the Search button. Do you see anyone that you're connected to at that company? If yes, try to make contact and politely ask if there's anything that he or she could do to help get your job application "noticed" such as forwarding your resume along to the hiring manager, for example. If no, consider typing in a few job-related keywords into the Title and/or Keywords field(s) in efforts to try to identify the hiring manager, the Supply Chain Recruiter or perhaps a leader within the supply chain department.
Once you identify the name and title of a potential decision maker or someone that might be able to help send you in the right direction, you need to do whatever it takes to initiate contact with this person even if it means picking up the phone and cold calling him or her. Now, before you pick up the phone to cold call someone, you better know exactly what you're going to say as you will likely only have 30 – 60 seconds to get your point across. This is why I strongly recommend that you spend time developing your elevator pitch and rehearsing it in front of a friend or family member.
Now that you have your elevator pitch down pat, you're ready to make follow-up calls. For each call, keep a goal in mind which could be obtaining the person's email address so you can send him or her resume or getting the name of a referral if your contact isn't the right decision maker. As a reminder, be sure to keep your action plan handy as you make these follow-up calls so you can document the results for each call, write down contact information for referrals you receive, etc.
Lastly, and I can't stress this point enough, by focusing on becoming consistently persistent with your follow-up calls and baking this routine into your job search strategy, you will separate yourself from the majority of other job seekers that are applying to the same positions you're applying to.
5. ENGAGE SUPPLY CHAIN RECRUITERS
Not all Supply Chain Recruiters are created equal. Some specialize by geography, function and/or level which is why it's important to conduct some research in efforts to identify Supply Chain Recruiters that match your particular needs. I also recommend asking members of your supply chain network for recruiter recommendations. Below are some links that I put together that will lead you to a plethora of Supply Chain Recruiters as well.
Google Supply Chain Recruiter Search
LinkedIn Supply Chain Recruiter Search
Twitter Supply Chain Recruiter Search
CSCMP Supply Chain Recruiter Directory
Once you identify a few Supply Chain Recruiters that focus in the areas you're targeting, send them your resume and include a short message that summarizes your job search preferences (type of position, location, level, industry, company size, etc.). I also recommend connecting with them on their primary social media sites such as LinkedIn, Twitter and Google+ as more and more recruiters are turning to social media these days to broadcast their job openings. You should also do a "check in" every once in a while via email or phone to see if they have any new opportunities in the works to consider you for. Remember, your goal here is to stay on their "radar screen" so please don't overdo it with calling and emailing as this can send out the wrong signal.
6. NETWORK VIA SUPPLY CHAIN ASSOCIATIONS
Last but definitely not least of my supply chain job search tips, try to commit to as many supply chain networking events as you can fit into your schedule. There are plenty of supply chain associations that you can join based on your particular specialty and many have local chapters that host networking and educational events on a monthly basis. These are excellent opportunities to network for job leads and discover more information about potential employers. Not to mention, many of the chapter meetings are educational in nature so while you're networking you should be able to learn something new as well.
If you're out of work and no longer have a work business card, I highly recommend that you order some business cards that have your basic information such as title, phone, email, etc. Vistaprint.com allows you to create business cards online via numerous templates and their prices are pretty good too.
In addition to networking and educational benefits, some supply chain associations have an Online Membership Directory where you can keyword search other association members by company name, title, city, etc. An excellent example is CSCMP  (Council of Supply Chain Management Professionals) which contains thousands of member profiles within their directory along with personal contact information for each member.  If you do reach out to someone via an Online Membership Directory, mention that you're a fellow member of the association and are looking to network for career opportunities.
I hope these supply chain job search tips help with leading you to the job of your dreams! For more, check out these two videos that dive deeper into these tips: