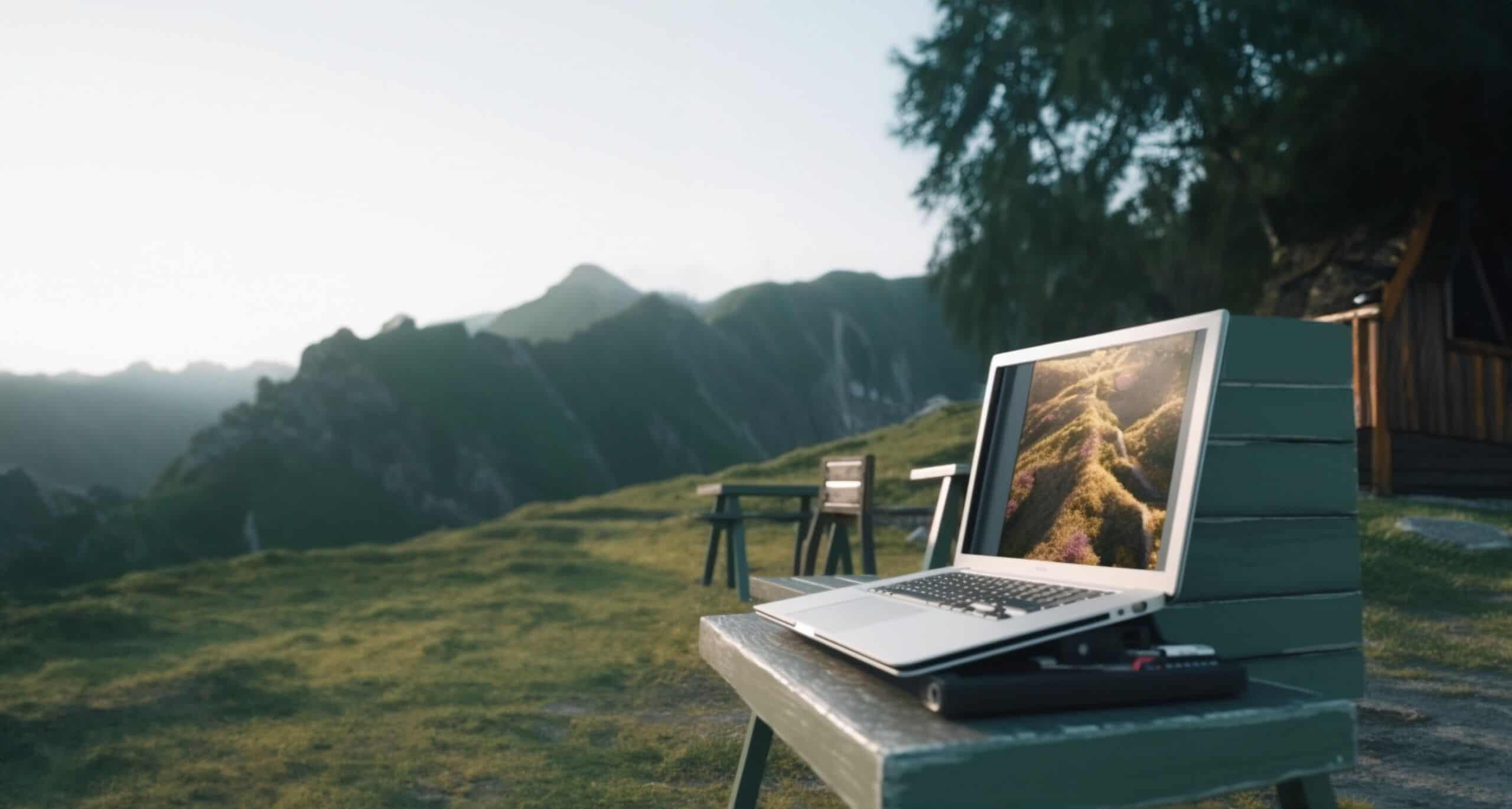 Will Remote Working Die? Here's Why That's Highly Doubtful
Employers around the nation are coming up with various reasons for why remote working will die. The wave of pandemic workplace innovations has caused a spike in flexible and hybrid workplace arrangements. Office spaces sit empty as more and more employees seek remote working opportunities to accommodate a pandemic lifestyle in hopes of also achieving a healthier work/life balance. This is much to the chagrin of many employers.
UPDATE
A January 2023 Washington Post article listed peak office attendance at 50.4%. The question remains, will this number level off or continue to climb. This represents the highest occupancy number in the Pandemic era. Many experts believe that this number won't go any higher as flexible work seems entrenched in the work place. Employees facing rigid onsite work requirements can usually find a position that suits their wishes for a hybrid workplace, if not fully remote.
Our LinkedIn poll suggests that this 50% occupancy will hold, if not retreat some. Only time will tell.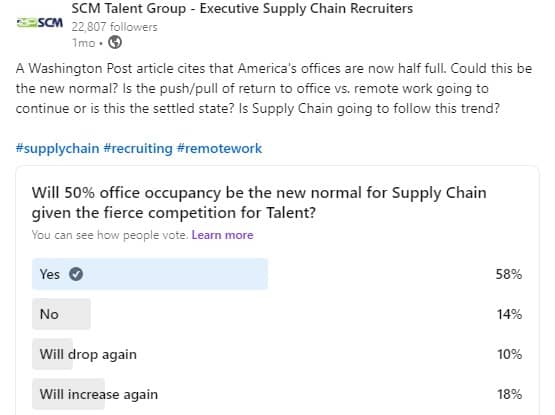 A recent Supply Chain Brain article is now suggesting that almost half the work force is or has been feeling burnt out. They go on to say that employers can help with this burn out by allowing for flexible schedules. These hybrid work arrangements allow for a more fruitful work life balance and can prevent things like quiet quitting.
What Happened
Before the Pandemic hit, approximately 16.8 million Americans were working remotely. That number has more than doubled since then with 36.2 million Americans now working from home. This has created a new set of protocols and issues, particularly with measuring productivity for a remote or hybrid workforce. The traditional measures of monitoring the office and workplace habits of employees is no longer viable. Typically, managers and human resources departments would track hours worked by employees based on when they were in the office; how much time did they take for lunch each day, are they regularly on time in the mornings, do they stay late or leave early, etc. However, as the Pandemic crunch hit, these measures became less viable.
The question remains: how is an employer to measure the productivity of remote employees? It would stand to reason that if productivity were substantially down, the remote working environment would have been squashed by now. Then again, the future is still unclear.
Why remote working will die: Maximizing Assets
Around the world, employers have a significant amount of their income invested in office space. Desks, chairs, printers, equipment, trash cans, bathroom supplies, cleaning supplies, and anything else you can think of necessary to make an office run sits idle in offices around the country. This says nothing of the significant amount of capital that's on the books for mortgages and leases. If the boss is the only one in the office why do they need all that space? An argument could be made that employers will begin requiring onsite office attendance in order to ensure that allocated space (along with budgeted dollars) is being used to justify the expense.
Large cities are feeling the pinch of remote work. Once busy city centers are boarding up businesses because of the rapid decrease in work day businesses. The trickle down – or up – effect of this is significant because these businesses are struggling to honor their leases. In addition to massive floors of office space sitting empty, other commercial tenants that relied on workers to be in the office are also struggling. This is fueling return to office pressure with new emphasis.
OR
Employers could liquidate these assets and remove the expense from their balance sheets. If there is no one that wants to work in the office, then it would stand to reason that productivity and morale could be damaged by forcing people back.
This is especially evident in the supply chain world as a massive talent war is taking place. There are thousands more open jobs than candidates to fill them, with one current estimate at 856,000 open manufacturing jobs and only a fraction of the number of people available to fill them. According to a recent article in The Hill, "Manufacturing, transportation and warehousing and shipping are particularly feeling the brunt of structural, worker-driven changes roiling the labor market. There aren't enough workers to unload goods from ships, while demand for truck drivers exceeds job applicants."
This leads us to ask the following question: is it prudent, financially and otherwise, to insist upon having an onsite workforce at pre-pandemic levels? Should supply chain employers be insisting that remote working will die?
Will Remote Working Die? No.
Employers can continue to ask why remote working will die. We will continue to advise them against that position.
65% of the American workforce currently working remotely or in a hybrid work environment want to continue to do so. In an environment where supply chain talent is at a premium, it would be unwise to intentionally buck this trend.
"A recent Fortune/Deloitte CEO survey found that almost three out of four CEOs believe that a labor and skills shortage will be the top external disruptor of business strategy over the next 12 months," as quoted in a recent Financial Executives article.
Another survey of CFOs conducted in Q4 of 2021 by Grant Thornton showed just as much concern about talent shortages as a significant negative in 2022, with fully 70% of executives seeing workforce issues as a significant negative disruption for them in 2022.
So, let's back up for a second:
Two-thirds of employees working remotely would like to remain that way or at least have the option;

Three-quarters of executives view talent shortages as significantly hampering their bottoms lines in 2022;
Would the answer, then, be to make it less desirable to work for you by insisting upon onsite employment?
Recruiters and talent professionals continually cite the candidate-driven market as a reason for many of these changes. A recent SCM Talent Group article said that many sought-after executives and professionals may not be actively seeking other opportunities but they are actively listening to pitches from other supply chain recruiters and hiring managers. Because folks are on the lookout, it's important for employers to take note of these changes and be willing to adjust accordingly.
Three of the most commonly mentioned items from these highly regarded supply chain candidates are:
better compensation packages

Streamline hiring process

Flexible workplace options
Employers wanting to attract women and/or highly educated candidates would do well to institute a remote or hybrid work policy. Studies continue to demonstrate that these cohorts tend to favor remote work more than others. An article in the New York Times on October 14 considers remote and hybrid work arrangements to be "the new normal" with success – or failure – highly dependent on management's approach to those working remote or hybrid schedules.
How Feasible is Remote Work in the Supply Chain World?
The short answer: Very. But don't just take our word for it. Read what Supply Chain Recruiters have to say about recruiting for remote jobs.
Supply chains have responded to pandemic disruptions with innovation and adjustments. (Sadly, some inflation has come along with this as well, but that's likely for another article.)
Reshoring and friend-shoring production has shortened supply chains. Digitization has created more efficiencies and removed the reliance 100% on human capital. The rise in automation and tech has developed university pipelines for some of the best young minds in the game.
Many of these adjustments and innovations can be done remotely. Procurement, engineering design, and various manufacturing positions all are being developed into more flexible work environments.
The supply chain is notoriously archaic in nature. From the 1950s on, it was simply moving things around and figuring out how to manage supply and demand. For a long time, many of the mitigating factors were somewhat static. We manufactured a lot of things domestically, which created shorter supply chains. Supply and demand wasn't as impacted by natural disasters and global geopolitical whims. Whereas now, we have more extreme weather patterns, much longer supply chains that absolutely depend on geopolitical stability in order to operate efficiently. Add in a once in a century Pandemic, and you have the perfect recipe for innovation.
Large multinationals have more rapidly adjusted to these disruptions by bringing their multimodal transportation options in house or making their widgets closer to home. But, not every manufacturer has those options. So, if you want to compete in the market, you need the best talent. If you want to compete to get that talent, then innovate your hiring practices. It's really that simple.
Conclusion
Why will remote working die? We very seriously doubt that it will. The supply chain is facing an unprecedented talent shortage which has created a candidate-driven market. Supply chain-specific job recruiters are being used more than ever to help satisfy job searches. It has become more important to utilize recruiters who have a thorough understanding of the end-to-end supply chain because talent is becoming more difficult to find. The worst thing that employers can do is use a generalized recruiter to source candidates because the talent pool is already shallow. Why risk getting someone who isn't properly vetted by the experts? According to said recruiters, candidates desire a flexible work environment. It seems the time has passed for rigid in-office requirements. If employers are serious about their staffing issues, they should also get serious about their staffing processes. While unlimited PTO and 4 day work weeks aren't yet the norm, there are indeed employers that have adopted these models to attract the best talent. Add to all of that the increased digitization and automation within the supply chain along with rapid advancements in tech that can allow high-level employees to operate efficiently outside of a prescribed office space and we really don't think it's likely that remote working will die.
While 97% of employees surveyed by Buffer.com would recommend remote work, it's not always a viable option for supply chain employers to offer. These are front line positions that require onsite tasks and supervision. But, technology and automation are starting to open up more supply chain remote opportunities. Still…will remote working die? Time will tell.