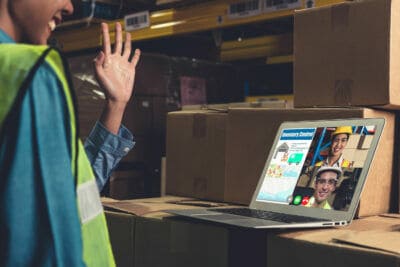 Building a High Performing Supply Chain Team
Building a High Performing Supply Chain Team
We often hear that building a high-performance supply chain team is an essential ingredient to management and business success. But what are some of the key elements to having such a team? Well, we are here to demystify that.
Designing the Best-Fit Supply Chain Team Structure
What is your organization's key function and how does it align with the larger business' objectives. Knowing how the supply chain elements fit into overall success can help you determine how to structure your team. For example, you might have important elements that you should keep in-house, such as manufacturing or assembly of intellectual property containing products. Other portions that are not so critical to a specific business, such as distribution, might be outsourced.
Strategic imperative can drive how to structure your supply chain team in other ways too. Companies have limited budgets and one must often decide where to be "best-in-class" and where adequate competency is acceptable. A SWOT analysis and other tools can be useful here. Other factors like geographic versus product alignment of teams are important to consider. These larger perspectives may drive how to structure and what level or how much talent you acquire in a given area.
Attracting the Right Candidates to Your Organization
Now you have decided how your organization should look – what next? Every organization has certain strengths and characteristics which help brand themselves and can attract the right candidates. Your company's mission, values, specific history, and culture all form a unique value proposition. Define the value how you can articulate it to external audiences.
Now, convey the brand. Which audience do you want to reach and what is best to connect with them? Some websites, recruiters, and journals are fantastic in warehouse management while others may be more suited to reach logistics professionals; and still, others may be end to end supply chain experts.
Detail out why top performers should work for you. Provide testimonials from your own top performers that demonstrate how they have advanced and the rewards for working with this group. Create a strong "call to action" by making it easy to access openings and upload resumes on your website or partner websites.
When developing job descriptions, avoid writing a long laundry list of arbitrary skills. Instead, focus on the strategic purpose of the position, and relevant details like reporting structure, team size, key objectives, required skills, and location/travel requirements. Keep the job requirements and qualifications simple and don't overdo them. Do state how the role will benefit the individual's career along with potential training and development.
Develop Creative Ways to Recruit Candidates
Depending upon the level and type of candidate you seek, there are many routes to access the talent market. A common entry-level method is a college recruiting program. Partnering with an appropriate university (with strength in supply chain) can bring you freshly trained graduates who are typically very interested in the function. You may assign supply chain leaders to target universities, attend job fairs, or perhaps even employ a college recruiter or a team of recruiters. US News has a list of top undergraduate supply chain management in the US while QS ranks the top graduate programs in the world.
Another useful tactic is to develop and optimize an employee referral program. If executed well, this tool can often be your top source for hires. HR and top supply chain leaders should actively consider designing and participating in a program across as many sub-functions as pertinent. Rewarding employees for referrals can be used to incent employees; however, it is important to focus on the quality of referral fit versus the actual reward.
Using online resources such as Linked in and specialized job boards (such as supplychaincareers.com) can be useful. On Linked in, proactively engage with candidates who match your typical recruitment profiles, even you don't have an open currently. Conduct exploratory interviews and maintain connections with high potential fits such that they are more likely to engage when the timing is right to recruit and hire.
Outside resources can supplement your own efforts. Consider engaging a supply chain management recruiting firm when unable to justify a full search on your own with only internal resources. Be sure to conduct research on the firm to ensure they focus in your industry and function. Think of the cost as an investment versus a fee. A better hire, and completed faster, often pays for itself many times over in just the first year or two. You might augment such efforts by tapping into Supply Chain Associations to leverage Online Membership Directories. Raise your profile by sponsoring chapter meetings or have your hiring managers attend conferences.
How to Vet and Assess Candidates
Okay, now you have some candidates and need to assess them. First and foremost, be certain there is strong alignment between the Recruiter/HR and the hiring manager. A well-written specification that has been reviewed – and approved – by all key stakeholders is imperative. It establishes what you are seeking, why, from where, and the interviewing and hiring process.
Assess candidates against your pre-defined, target core competencies (leadership, technical, functional, etc.), past performance, and potential fit in the new company culture. Having a written interview guide with some common evaluation themes, coupled with appropriate allowance for unscripted observations, can yield good insights into identifying a successful hire. Schedule a pre-brief and a debrief soon before and after each interview. Follow this with reference checking; ideally with one or more each of a superior, peer, and subordinate.
Closing the Deal
It is critical to understand all aspects of the candidate's compensation and benefits expectations before the offer stage. "Pre-close" the candidate by discussing ranges and expectations to improve acceptance rates, increase speed, and mitigate risk. Look at all the factors: base, bonus, any potential equity or long-term incentive, all benefits, perks, and relocation assistance. Be certain this is well understood by internal parties such as Human Resources, the hiring manager, and any required senior executives who might need to provide approvals.
Stay close to the candidate and continue to market the strategic reasons to join your organization. Develop what-if scenarios for negotiations and counteroffers. Often times compensation is not the only (sometimes not even the primary) reason a top-performer may be considering a move. But avoid lowball offers as they have many other hidden risks. Finally, stay in close contact with the candidate until the start date and develop a 30/60/90 successful onboarding plan – with clear owners for each task.
Retaining top performers
How do you hold on to your top talent? First, create an employee-centric culture. Using engagement surveys or other tools can help, but often they are digested by only part of the senior management team, are delayed feedback, and do not capture many relevant aspects of the culture.
Instead, develop a just-in-time dashboard of key metrics that help you see what is going on right now. This could be metrics such as: new hire close rates; retention; time to close; successful promotions; hours of training & development; rapid, short, and frequent survey morale pulse-checks; ongoing engagement program (versus large ones every few years…); and measuring value employees see in their development plans. Top talent will appreciate this and you will have richer ongoing facts and data. Initially, you might engage a talent advisory firm to help establish a program.
Focus on your existing employees and the challenges they face. Clearly identify what is keeping your current top performers from being fully motivated and engaged. For example, it could be an unclear or undefined development plan… or perhaps a lack of mentorship and growth opportunities. What are you doing to address these concerns? Exit interviews help, though they are focused on ex-employees and often ones who may not have fit your business or culture. Instead, zoom in on specifics like individuals and on a site-by-site basis. Cultures and engagement are not absolutely uniform, particularly across larger organizations.
Ultimately retention is directly related to your supply chain leadership's involvement in identifying the relevant talent categories, developing plans to monitor the health of the organization, and remain fully engaged in creating an employee-centric, development-oriented, and attractive culture for those target talent categories. Develop, execute, and continuously improve a plan!