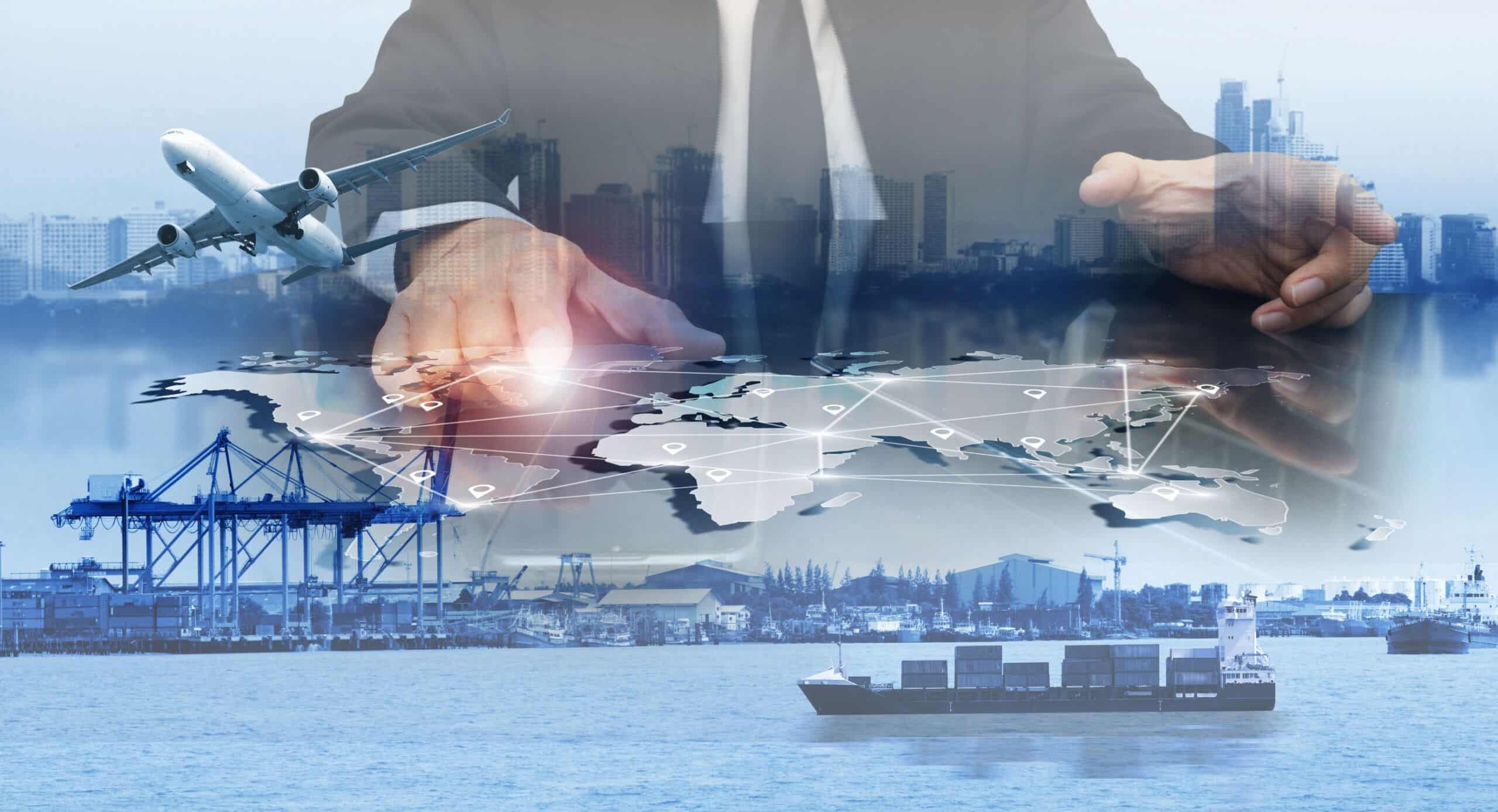 Transportation and Logistics Career Paths
Transportation and logistics is a critical aspect of supply chain management. Similar to supply chain management career paths, logistics career paths can also be quite expansive. When speaking in terms of supply chain, logistics is the movement of materials from point of origin to point of consumption. Everything in between these points needs to be highly managed and optimized.
If you're considering or beginning a career in transportation and logistics you may find that it's overwhelming to gain a comprehensive understanding of the myriad logistics career paths to choose from and ultimately decide where to build your career. We've put together a high-level overview of the various career paths that exist within the field of transportation and logistics. This should help you better understand what to consider when evaluating and selecting the best career path for you.
For you employers looking to hire logistics talent, be sure that you're working with a specialized recruiter. The field is advancing rapidly and much too nuanced to not work with a logistics & supply chain recruiter.
If you're considering careers in logistics in 2023/2024, it's wise to pursue and familiarize yourself with the rise in technological tools that are becoming more prevalent in logistics. Automation and real time tracking are becoming industry standard. You may have a skill set that's transferable into supply chain and you don't even know it! So don't hesitate to pursue things like logistics or even procurement career paths.
What is Transportation and Logistics?
Transportation and Logistics are subfields within supply chain management. Your career in logistics will be wholly dependent on your knowledge of supply chain management. You don't necessarily need a degree in logistics or even experience as a supply chain manager. You just need to get in the trenches of the logistics industry. Supply chain managers will be relying on transportation and logistics personnel for a wide range of information and data. These are things to consider as you begin your logistics industry journey.
A definition of logistics as provided by The Council of Supply Chain Management Professionals is "part of the supply chain process that plans, implements and controls the efficient, effective forward and reverse flow and storage of goods, services and related information between the point of origin and the point of consumption in order to meet customer's requirements." In Supply Chain Logistics Management, Michigan State University's professors define logistics as activities – transportation, warehousing, packaging and more – that move and position inventory and acknowledge its role in terms of synchronizing the supply chain.
Most large corporations are moving towards more digitization and automation throughout their logistics networks. This requires a more evolved skillset than what logistics professionals were asked to do even in the last 5 years, much less 15-20 years ago. Supply chains are long but are becoming more technologically advanced as well as shifting points of origin and modes of transportation. The fluidity in the freight markets requires a need to manage costs in an entirely different way. What once was affordable to move freight from southeast Asia to the west coast of the US may no longer be so. A seasoned transportation and logistics professional needs to be able to forecast this, implement technological advancements, manage teams of people tactically operating the logistics, and communicate thoroughly across functions internally, as well as with vendors.
Simply put, the overarching objective of logistics is to ensure that the customer receives the right product at the right time at the right. However, this objective has evolved quite a bit in recent years with the explosion of eCommerce. Today the customer has a lot more options to control the timing of when the product arrives and the options for the shipping destination, ranging from same day delivery of an online grocery order, to picking up their order while on vacation at an Amazon Hub Locker. Within that process is where the meat of the function lies, and how that product gets to the customer's doorstep is a feat not often explored by folks who aren't actually working in the field of logistics.
Logistics Life Cycle
The logistics needs of a given supply chain are a function of the products to be sold and the customers or consumers who will use the product. The larger business or enterprise strategy will guide on those topics to determine where and how the inputs to the products will be sourced, to include architecting the network from suppliers to end customers. The Logistics team will be at the table for these discussions and will guide on various options that should be in play for transportation and distribution capabilities, including tradeoffs for each.
The output of this exercise typically informs annual and multi-year logistics needs at a network level. This will include transportation lanes and locations where product needs to be stored and orders assembled. The Logistics team then will work alongside the Procurement team and go through analysis and engagements to determine how to acquire the capacity and capability needed.
Make vs Buy: do it yourself or pick partners, often times a combination of both

Management Systems and Tools (TMS, WMS, Visibility Tools, Labor Management Systems)

Logistics Planning as an output of S&OP to plan within the year

Execution

Supplier Performance Management

Continuous Improvement
Inbound
Inbound logistics is the movement of raw materials, supplies and manufactured goods into the supply chain. The logistics processes that move raw materials, supplies, and finished goods into distribution centers or warehouse and storage facilities are considered inbound. Sometimes, they differ from the types and modes of transport necessary to get the finished product out of the storage facilities.
Outbound
Outbound logistics is exactly what it sounds like: getting the product out to the consumer. All outbound logistics focuses on the demand side of getting the product to the end-user/consumer, and includes the final mile or last mile.
Skills to Develop & Refine
After having a better understanding of transportation and logistics, it's important to understand some of the core competencies and skills needed for success:
Attention to Detail

Relationship Building

Problem Solving

Communication

Negotiation

Analytical

Strategic Thinking

Time Management / Project Management

Influencing / Change Management

Financial Acumen
Listen to an Entry Level Logistics & Supply Chain Professional cover the skills they use in their job:
Traditional Logistics Career Paths
When it comes to career paths, consider the different levels that exist in logistics:
Entry Level

Mid-Level

Executive Level

Sample Job Titles

Director of Logistics

VP of Logistics

Typical Job Responsibilities/ Tasks

Manage daily shipping activities and ensure a successful shipping lifecycle

Research and resolve delivery delays and discrepancies

Communicate frequently with vendors

Analyze data to identify problems and trends to aid in decision-making

Overseeing receiving, warehousing, and distribution operations

Managing transportation carriers & performance

Implementing operational policies and procedures

Ensuring safety of staff

Optimize performance of staff

Developing and facilitating efficient logistics strategies

Management and administration of the company's logistics programs

Oversees the entire transportation and logistics department, processes, staff and systems

Short-term and long-term network planning
Logistics Career Paths Differ by Industry and Company Size
It's also critical to remember that logistics roles, responsibilities, and career paths vary across industries and by company size.
From a company size perspective:
Smaller Organizations

Pros:

Typically on a leaner team but with more and broader exposure (think "wears multiple hats")

Likely be in a position to personally make a bigger impact on the success of the company

Faster decision-making improves getting initiatives and projects completed quicker

Cons:

May not have the level of career advancement opportunities, as well as access to robust learning & development resources

Often times operates with less or inferior resources such as advanced systems and mature processes that you would find in many large corporations

Less exposure to internal operations such as manufacturing and warehouse facilities, as outsourcing to third party logistics firms is more common

Larger Organizations:

Pros:

More career paths to choose from within logistics or even other functions within supply chain management

More opportunities for learning & development and advancing to higher levels within the organization

Cons:

Common to have a much narrower focus due to higher volumes and complexities within larger organizations e.g. less exposure to the various modes within transportation such as rail, ocean, air, trucking, etc.

While this isn't painting with a broad stroke, it's more common to feel like you're "a number" or "cog in the wheel" at large corporations, which isn't for everyone

Decision-making is typically slower and navigating the common red tape and bureaucracy can be a bear
Service Providers
If you're not a shipper, i.e. manufacturer, retailer or wholesaler, then you're likely a service provider that provides various solutions, products or equipment to shippers. These may be companies that implement supply chain software solutions within a manufacturer's plants, or freight carriers that transport products on behalf of shippers to their customers via truck, rail, ocean or airplane. Some companies provide supply chain consulting services as well, ranging from the Big 4 global advisory firms like Deloitte or PWC, to niche boutique consulting firms like St. Onge or Chainalytics.
Working on the service provider side creates a diverse logistics career path and there are many types of providers to choose from that span pretty much every industry. Here are some examples:
Supply Chain Technology Firms – WMS, TMS, ERP

3rd Party Logistics (3PL) and 4th Party Logistics (4PL)

Carriers – LTL, Truckload, Ocean, Intermodal, Rail, Air Freight

Freight Forwarders, Non Vessel Owning Common Carrier (NVOCC)

Advisory / Management Consulting – Big 4, Niche/Boutique

Supply Chain Associations – CSCMP, WERC, MHI, ISM

Training & Academia / Universities

Logistics & Supply Chain Recruiting e.g. SCM Talent Group

And many more!
While the core roles, in terms of staff volume, tend to be on the Operations side of the business, we certainly can't forget about the "supporting cast" roles as every service provider needs the right level of staff to handle the common business functions that exist within any company:
Business Development / Account Management
Marketing
Information Technology
Customer Service
Human Resources
Administrative
Finance and Accounting
Freight Carriers (by Transport Mode)
Many career paths exist within the various freight carriers that transport products from shippers to customers. We refer to these as the "modes" of transportation and you commonly see these carriers in action as you venture outside in your own vehicle e.g. crossing a railroad track, passing an 18-wheeler, or receiving a delivery to your doorstep via van.
Trucking – Truckload, Less-than-Truckload (LTL), Flatbed, Van, – while many of the jobs are truck drivers, who we graciously appreciate for their duties as commerce would come to a complete halt with these super critical workers, other career paths exist within their operations consisting of freight terminals, cross-docks, and headquarters.
Rail – from scheduling trains to operating them, this mode commonly ships commodities, hazardous and bulky materials that span chemicals, agriculture, energy, lumber and the like.
Ocean – steam vessels that carry containers across our seas and oceans, ranging from durable goods, consumer goods, automotive and much more.
Air – while more expensive, this mode is used for expediting the delivery of goods to a customer, and transporting sensitive or high-value goods.
Intermodal – as the name implies, there are specialized service providers that enable the flow of inbound products from one mode to another e.g. products arriving into a port from overseas will need to be offloaded for transport via a different mode e.g. rail or truck.
Third Party Logistics (3PL)
The exponential increase in eCommerce has brought with it a dramatic rise in the use of third party logistics companies. 3PLs can handle all or a portion of your inventory fulfillment needs. They store, pick, pack, and ship your goods and provide a link between the manufacturer and the consumer. Many provide additional value-added services such as kitting and assembly which is akin to "light manufacturing". Some own their assets that can include a fleet of trucks or a network of warehouses, while others choose to lease. Along with a rise in use of these companies comes an increase in the need for qualified logistics talent and more career paths within the 3PL world.
Fourth Party Logistics (4PL)
4PLs commonly work across the entirety of the supply chain management world – while 3PLs typically focus on narrower aspects of supply chain for their customers. 4PLs often focus on owning the execution and operations aspects of a company's supply chain, where the shipper has decided to "fully outsource" their supply chain to an external service provider. 4PLs typically oversee multiple logistics providers on behalf of their customers, which can include contracting with multiple 3PLs, carriers, freight forwarders, and other service providers around the world. Along with a rise in use of these companies comes an increase in the need for qualified logistics talent and more career paths within the 4PL world.
Freight Forwarding
Freight Forwarders are essentially middle men for multi modal transportation for manufactured goods. These entities use their contacts in the transportation world to negotiate freight rates and mode of transport to optimize the flow of goods, in particular across country boarders, including navigating customs clearance and compliance. They typically don't directly manage the shipping of goods themselves, but some do. They are service providers who are able to facilitate a more rapid, efficient, and cost effective means of moving high volumes of goods around the world, spanning both importing and exporting.
Warehousing & Distribution
Once the goods are produced and shipped, they need to be packaged, stored, and then distributed to the end customer. This leg of the logistics process involves more hands-on career paths that employ front line workers. These career paths are more tactical in nature with the objective of shipping accurate orders and meeting customer deadlines, day after day. However, the management of warehousing and distribution centers has rapidly become more automated, requiring a different set of skills that are more technical in nature. This familiarity with software, robotics, automation, and related material handling equipment has created some initial hurdles with adaption, by relying too heavily on a smaller group of people who know how to deploy the technology and equipment. This skill loss cycle can have an impact at higher levels in the warehousing and distribution logistics cycle.
In addition, manufacturing facilities require logistics as well, ranging from coordinating the inbound flow of raw materials, components and packaging materials into the factory, to the storing and shipping of the finished goods to the customers. These roles can be more tactical in nature, but are critical to the success of any manufacturing operation.
Reverse/Returns
There are also career opportunities in reverse logistics, or "the world of returns." These logistics pathways serve retailers who need infrastructure to support returned items from individuals and businesses. This requires a separate pathway from consumer to retailer rather than from origin to retailer. And while this area hasn't always been viewed as the "sexiest" career path within logistics and supply chain, today it is one of the fastest growing segments within all of logistics, thanks to the rapid expansion of eCommerce.
The Reverse Logistics Association details all the steps involved in reverse logistics. They are as follows:
Return: Initializing the process
Return: Disposition
Repair/Refurbish
Repackage
Resell
Reuse
Recycle
Conclusion:
If you were to ask one of the world's foremost logistics experts and MIT Professor Chris Caplice about today's logistics it's that employers need more hard skills in place. "Students were being taught technical things and at that point it was still optimization, simulation, those kind of methodologies, but they were lacking in the ability to work the corridors," says Caplice. It's time to put these theoretical skills to work and get involved in the "corridors" of supply chain. Before venturing down your transportation and logistics career path, it's important to have a strong understanding of the different logistics areas and how the career paths can vary. From different industries to job levels to skills needed, hopefully, you've developed a better understanding of what to consider when evaluating and selecting the right logistics career path for you!