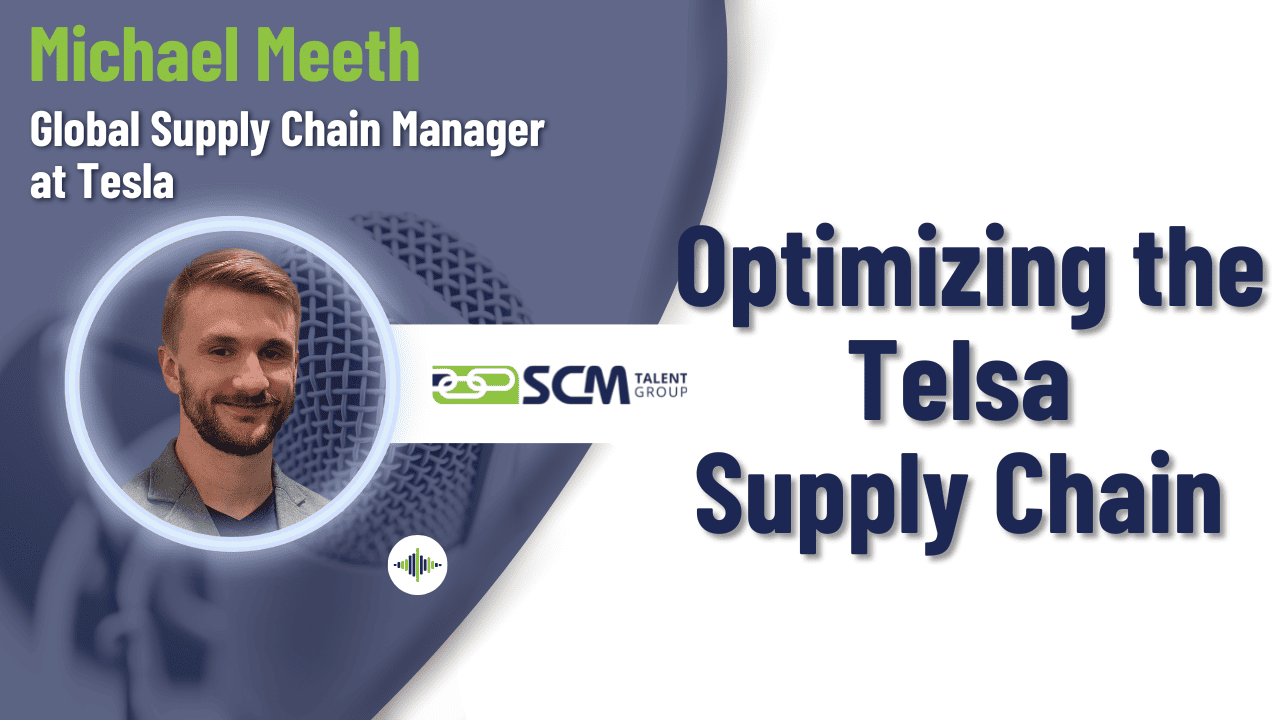 Building a Manufacturing and Supply Chain Career with Michael Meeth
Who is Michael Meeth?
The Tesla supply chain is successful for many reasons – one of which is Michael Meeth's work. Meeth is the Global Supply Chain Manager for Tesla. He brings with him a wealth of knowledge and experience that he's gained in a relatively short period of time.
Michael graduated from Western Michigan's University's Integrated Supply Management Program in 2012 and joined Whirlpool Corporation's Global Supply Chain Leadership Development Program. He had experiences across planning and logistics, lean manufacturing, and procurement. He developed into a people leader and took on roles of increasing scope and responsibility throughout his 10-year career in supply chain. Mike recently transitioned his career to Tesla and the growing EV industry and is currently responsible for global procurement of aluminum components.
A single conversation in a college hallway with a professor drove Meeth to pursue a career in supply chain that has landed him at one of the nation's – and the world's – biggest and most cutting edge brands.
Coursework in Leadership Development/Choosing what you're good at and Interested in
While at Western Michigan, Meeth decided that he would work towards finding ways to develop leadership skills early on. Citing high talent demand in the supply chain, Meeth immediately found internships and programs that accelerated his career success. He researched top supply chain jobs on his own but found that the hands on experience he was receiving was just as valuable.
"It was very intentional. I picked the leadership development program at Whirlpool Corporation because of past experiences that I've had… And really what that did for me is it laid a strong foundation. Supply chain is a massively big topic in a massively big scope. So these leadership development programs provide students with a lot of insight into the different aspects [of supply chain]." 
Preparation for success in the tesla supply chain included working in one of the largest washing machine factories in the world as a lean engineer. Meeth was also in procurement as a plastics buyer. Working in multiple functions within the supply chain helped to instruct Meeth's learning about the reliance one sector has on another. This knowledge sharpened his supply chain acumen and helped his career to accelerate at a more rapid pace.
From a personal perspective, this more diversified supply chain experience early on helped Meeth learn what he wanted to do as well as what he was good at. He eventually settled into procurement as his chosen career path. Developing this awareness and dedication at an early stage in his career created added advantages. Meeth was able to draw on his experience, education, and natural skill set and combine it with his chosen supply chain function and industry at a relatively early stage in the game.
Meeth was fortunate to be able to navigate a lot of his own supply chain career path. However, there are tons of resources available for qualified candidates who want to expedite their placement with reputable companies. Supply chain recruiting firms are always sourcing top-tier talent to optimize supply chains, nationwide.
Real World Knowledge and Experience
When asked how Meeth arrived at the decision to focus on procurement and leadership development, he again credited his college mentor's approach to Supply Chain 101. Sime Curkovic laid out a series of articles that detailed supply chain in the modern world. It wasn't an abstract explanation of moving parts and the definition of logistics. Meeth was exposed to a practical explanation and understanding of supply chain and its applications as a way for him to land his first supply chain job.
"He stood up front and he didn't make us buy a book. He printed out a bunch of articles, laid 'em all across the table and he spent the whole two hour block just talking to us about how to get a job in supply chain. And what are the different things you can do in supply chain and what do companies value and why is supply chain strategic? Why is it something that companies are gonna continue to invest in, in the future?"
Meeth traces his decisions to these very early college experiences at Western Michigan. Tesla's supply chain has benefited greatly from this practical application of his supply chain education!
The Tesla Supply Chain is People
Something that's often said at SCM Talent Group is that "supply chain is people." Meeth echoes and expands upon that sentiment.
"I mean, it's just people, that's the way I look at it. Right. And it's international people. So it's understanding cultures, understanding people, understanding how to communicate with them, how to drive performance, how to give feedback, how to understand people's perceptions and understand their motivations and really get the most out of them and be the most efficient as possible."
The people you hire must have more than the tangible skills and knowledge to thrive in a specific supply chain job. As Michael Meeth points out, he's been able to optimize the Tesla supply chain because he realizes it's as much about people as anything else. 
Supply chain professionals have to engage outside of their given silo. Cross functional awareness is absolutely essential for success. Meeth set himself up well for this by pursuing a multi-disciplinary leadership approach to his career path. Meeth also rightly notes that supply chain grabbed attention in the C-suite when COVID disruptions created havoc. This is helpful for talent development and career paths because more of a priority is being placed on strategic skill sets and the ability to interface with more than just your team.
"The other thing that I'll say is building relationships with your peers and your cross-functional partners is also very, very important. When there's a strong relationship and a strong team in place, then the results tend to be much more effective and much more valuable. I think when you're working with people internally, too, it's always really important to explain the why we're doing things…A lot of times people have competing objectives and sometimes they're not able to prioritize your time. Getting that alignment up front is very important."
Meeth also lauds the mentors he's had along the way as keys to his success. Meeth is also encouraged by the influx of more diversity into the "people" part of the supply chain. Diversity of culture and ideas helps to expand the knowledge base while making transitions and engagement with multinationals that much smoother. Our supply chains are massive, and again, made of people. 
People are naturally Problem Solvers
Meeth closes out this insightful podcast emphasizing the importance of the people in his success. Mentorship was very impactful part of his supply chain career arc. He notes that formally arranged mentor/mentee relationships weren't all that helpful. However, the more organically these situations developed, the more he learned from them.
"I look for mentors around me every day. It doesn't even have to be in the company. It could just be somebody that says something that resonated with me."
He emphasizes that value should be placed on both the mentor and the mentee. Both parties should learn from one another, or else its a failed partnership. Finding people with diverse backgrounds and diverse perspectives that can effectively challenge your own skill sets and established positions can accelerate personal and professional growth.
Meeth also learned early in his career the value of being in the mix. He was on the manufacturing floor and had 8 people reporting directly to him, at a relatively young age. He had to quickly learn how to follow in order to become a successful leader. There's not many better environments to practice this than getting your hands dirty with those who you supervise. It not only gives you invaluable hands-on experience and knowledge but also helps to foster loyalty among your peers. If you don't know how to follow, you'll struggle to lead. 
People are also problem solvers. He encourages folks to not be afraid to fail. Find a way to tackle a project and don't become overwhelmed with its size and scope. The best and quickest way to success is – arguably – failure. You're going to make mistakes. You're going to find obstacles to growth. But, will you apply these lessons or will you simply turn away from the path? 
Conclusion
Michale Meeth has helped to optimize the Tesla Supply Chain by focusing on people and communication. He emphasizes the need for cross functional awareness and communication, an alignment of goals, outcomes, and measurables, and a willingness to have your presupposed notions challenged as a mentee or a mentor. Meeth also credits his early career exposure to being on the manufacturing floor as part of a leadership development program. Whether a job is onsite or remote – or hands on or tech, the people are still main drivers of success – and failure.
Diversity of people, thought and action combined proper communications, internally and externally, can optimize most any environment. Supply chain professionals can learn a lot from these practices.